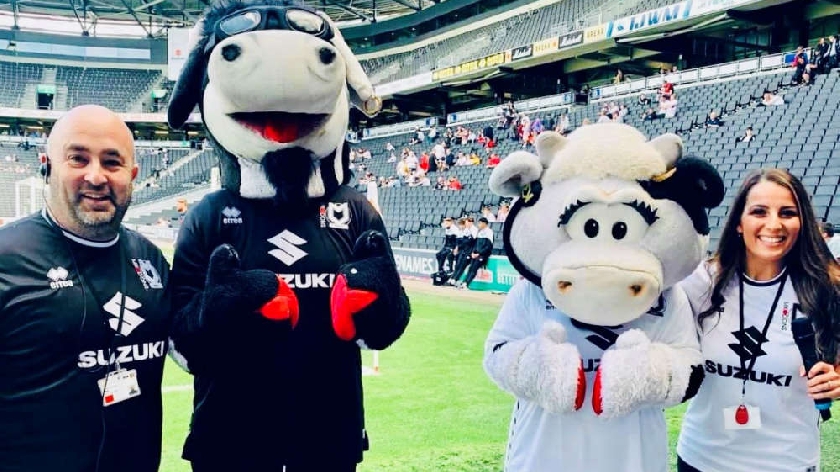 MK Breakfast Show hosts Darren & Lia will be getting you ready for kick-off each and every league match this campaign.
The MKFM Pre-Match Show takes place in the hour prior to kick-off and will include music, games, and competitions, with all the fun being shown live on the big screen, to keep supporters of all ages entertained in the build-up to the game – make sure you get in early to avoid missing out!
Their exclusive debut was at the pre-season friendly with Tottenham Hotspur (28/7) and Darren and Lia will be back to entertain the new MKFM Family Area on Wednesday 8th December - the fun starts from 7pm.
Darren & Lia said: "With supporters coming back to Stadium MK this season, it's an honour to be asked to host the MKFM Pre-Match Show.
"There's going to be great music and lots to keep the family entertained, with opportunities to win some fantastic prizes! Plus, we would love to hear from supporters who are celebrating a birthday or something special in their life."
Darren & Lia will be supported by MKFM's Mark Stevens, who will be ensuring fans are kept up to date with the latest team news and scores from around the country.
The announcement of the MKFM Pre-Match Show comes after the launch of the MKFM Family Area, which aims to enhance the Family Area experience at Stadium MK.
Andy Gibb, Director of Sales & Marketing, added: "We are very excited to launch the MKFM Pre-Match Show, which we will believe will be a fantastic addition to our matchday offering at Stadium MK.
"In the hour before the game, there is always plenty of anticipation and excitement in the ground, and Darren & Lia are the perfect people to build on that, and make sure Stadium MK is ready and raring to go come kick off!"
If it's your birthday, anniversary or first visit to Stadium MK and you would like to get involved in the MKFM Pre-Match Show please email dons@mkfm.com.
Supporters can listen to Darren & Lia between 7 and 10am each weekday morning on MKFM's MK Breakfast Show.