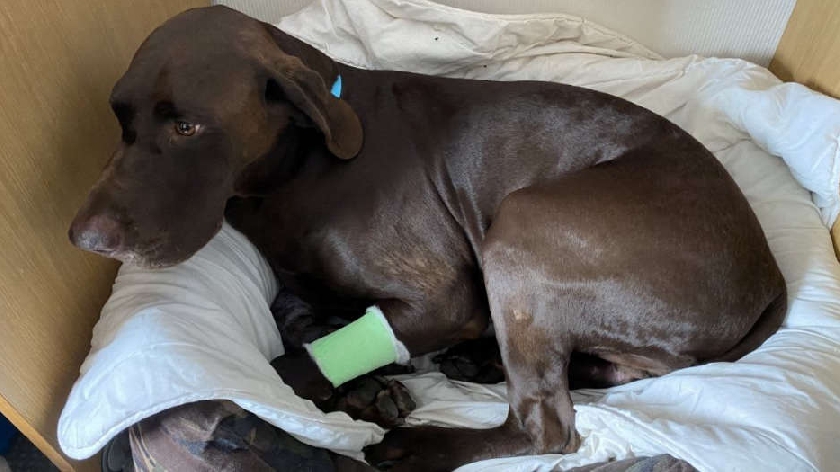 Photo: Daniel Wright / Team Dogs
A local dog that was holidaying with his family in Wales has survived after falling down a 35ft waterfall.
Alfie is an 8-year-old German Shorthaired Pointer who lives with his owner Daniel, Daniel's wife Jade and their daughter Isabelle in Milton Keynes.
And last week, the family were out hiking the Four Waterfalls trail in the Brecon Beacons National Park as part of their summer trip.
Alfie was then said to have slipped out of the lead, ran ahead to start sniffing in some bushes, then accidentally slipped and fell onto the rocky surface below.
Daniel said that the dog started shaking and yelping in pain. Daniel, alongside fellow dog walkers, police, and a mountain rescue team, started to clamber down to rescue Alife.
The 8-year-old dog was then placed on a stretcher and taken to a vet. He suffered fractured bones and needed surgery totalling £6,000.
Daniel spoke out about the experience by telling Team Dogs: "I didn't realise the height change on the other side, or I would have not let Alfie get ahead. He means everything to us, when we go on trips and suchlike we plan it so that we can take him with us. He is a member of our family, not a pet. To have lost him in these kind of circumstances would have been very difficult to get over."
Despite the frightening ordeal, the dog spent just two days at the vets and is now at home recovering.
Daniel added: "He is very much back to his old self and is already showing signs of frustration at not being able to go out.
"So many people offered their help both on the way up and while we were waiting for the rescue team. It really is something that restores your faith in human nature.
"My main motivation to get Alfie's story out is to promote the fantastic work that the Central Beacons Mountain Rescue Team did on that day and does on a daily basis."