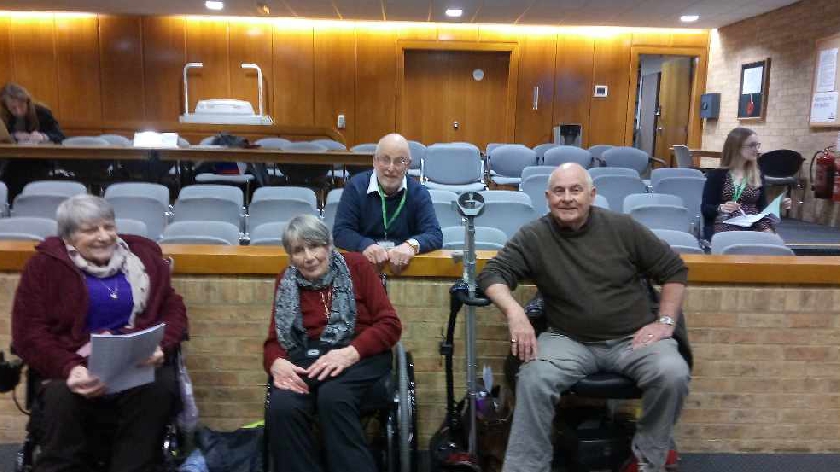 The campaigners won unanimous council support which means mobility scooters and wheelchairs can move around more easily.
Milton Keynes Council has called on its decision-making cabinet to end inequalities of access by introducing a funded five-year programme from this April to put dropped kerbs at all road crossings and remove problematic footpath chicanes.
"Imagine you are a Dalek," said Ernie Boddington, a trustee of Milton Keynes Centre for Integrated Living (CIL). "How do you defeat the Daleks? You put a kerb in the way.
"How do you stop the disabled? Put a kerb in the way," he added in front of the full council on Wednesday (22/1). "Going out is a leap of faith."
He and his colleagues from CIL were at the MK Council chamber to speak in support of a motion from Cllr Paul Alexander (Lib Dem, Newport Pagnell South).
Cllr Alexander is himself disabled, and uses a mobility scooter to move around his ward. His motion also called on the council to support equality of access and to take action to prevent drivers from parking alongside dropped kerbs.
"We have some places where there are dropped kerbs at one end of the footpath and not the other," he said.
He said there were 12,000 scooter users in MK and another 7,000 with pushchairs.
Cllr Paul Williams (Lab, Central MK) lives with spina bifida and he seconded the motion by quoting comedian Lee Ridley, the Britain's Got Talent winner, Lost Voice Guy.
"It's a matter of improving lives for the disabled, and the not yet disabled," he said.
Councillors from all three parties lined up to support the motion and suggest more action.
Cllr Amanda Marlow (Cons, Loughton & Shenley) wanted to consider the banning of drivers parking on pavements, while her colleague Cllr John Bint (Broughton) wants wider roads to be built, and for pavements to be cleared of brambles.
Cllr Nigel Long (Lab, Bletchley East) wants to see disabled people be on committees and approve designs.
"It's about putting disabled people at the heart of the process," he said.
Campaigner Valerie Williamson, also of CIL, thanked councillors for their uncontested unanimous support for the move.
She invited the members to spend some time in a wheelchair to appreciate the issues they have moving around the city.
The mayor, Cllr Sam Crooks (Lib Dem, Broughton), asked officers to make a note so the invite would not be forgotten.