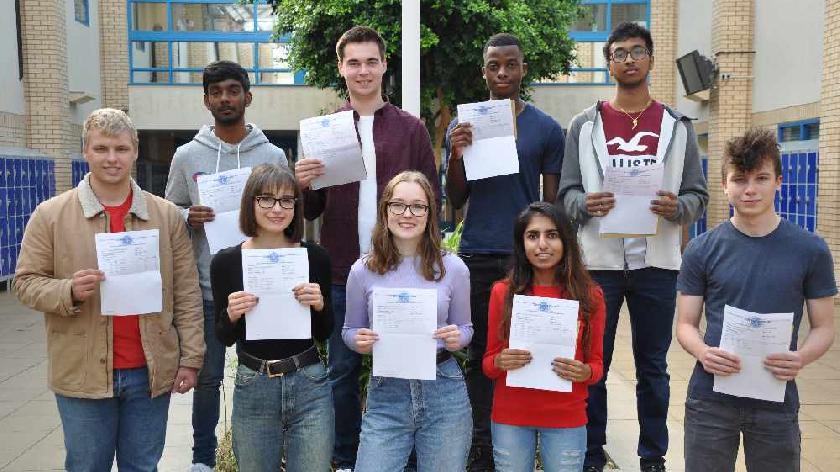 Denbigh is delighted that more of its students achieved the very highest grades at A Level this year, bucking the national trend which saw a fall in the number of top grades achieved.
These brilliant results meant that four students secured a place at Oxford or Cambridge and many more will study at the prestigious Russell Group Universities. The top 10 students in the year group secured the equivalent of 4 A*/A grades each, which is a fantastic achievement. The leading students were Jacob Sporn with 4 A* grades, Shinoj Sritharan with 3 A* & 1 A grade, Alex Grange with 2 A*, 1 A & 1 B grade and Tim McElligott with 1 A* & 3 A grades. The stories of success continued with most of our students achieving their ambitions of university places, apprenticeships or employment opportunities.
Denbigh's Executive Headteacher, Andy Squires, said: "We are thrilled with the achievements of our Year 13 students. Their hard work and dedication have been rewarded with a tremendous set of qualifications. We are particularly pleased with the increase in the number of higher grades achieved at a time when nationally the number of top grades has reduced. Sixth form study opens gateways to the next stage of a young person's life so we are delighted that for our students there are many exciting opportunities waiting for them, thanks to their own commitment alongside the experience and expertise of our staff, and the support of their parents.
'This year we have three students going to Cambridge, studying 'Natural Sciences' or 'Human, Social and Political Science'. We also have two students who will study Medicine, one at Oxford and one at Lancaster University. Two students will be studying Maths at Durham and one will be studying English at UCL. Some of our students have also secured places on sought after apprenticeship schemes run by Grant Thornton and Santander. We wish all our students well in the next stage of their lives.'