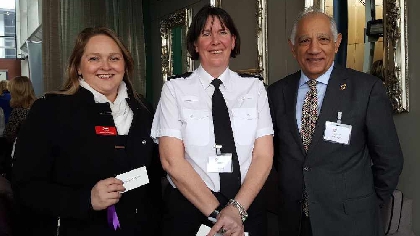 The 8th March is International Women's Day, a global day, bringing women together to share stories, celebrate achievements and inspire future generations.
Since 2013, MK Community Foundation has held an annual event to mark the occasion. This year guest were invited to MK Theatre to hear Nikki Ross, the Assistant Chief Constable of Thames Valley Police, talking about her role and the challenges that she has faced as she moved through the ranks from the Typing Pool to her current role as the Assistant Chief Constable.
Nikki delivered her speech to the engaged audience, including the Mayor, Mayoress and the High Sheriff of Buckinghamshire and the event sponsors Woodfines Solicitors with a perfect balance of honesty, humour and inspiration. She left the audience with a palpable feeling of positivity and a clear message to #PressForProgress.
"It was great to have such an opportunity to meet and network with a wonderful group of women from MK Community"
Pauline Garriques - Friends of the Caribbean
#Vote100
Debbie Brock took the opportunity to mark the 100th anniversary since the Representation of the People Act 1918, meaning the first women were able to vote. It took years of campaigning and direct action by law-abiding suffragists and violence and hunger strikes by the militant suffragettes to achieve The Act, which granted the vote to men over 21 and women over the age of 30 who met certain property qualifications. It was another decade before all women gained the same voting rights as men.
Delivering Inspiration
As part of the celebration, The Foundation invited 19 women, from an astrophysicist to a leader in Cybersecurity, to visit a local schools talk about their Journeys. Each inspirational Woman delivered a copy of the book, 'Good Night Stories for Rebel Girls' by Elena Favilli and Francesca Cavallo. The book tells the stories of 100 remarkable women and their extraordinary lives. It's hoped that this gesture will inspire the next generation of women to dream bigger, aim higher, fight harder.
Women Who Made Milton Keynes
Alongside celebrating international women the Foundation was lucky enough to share part of Milton Keynes Fawcett Society's recent exhibition "Women Who Made Milton Keynes" celebrating the lives and legacy of 10 local pioneering women who helped create the city's identity and its landmarks.
#PressForProgress
The guests walked to the MK Rose where they heard from 2 students from MK Academy who read an extract from the Rebel Girls book.
Guests were then encouraged to make a personal pledge or comment and tie it to the International Women's Day Pillar, keeping in mind this year's theme #PressForProgress. What will you do this year to help create positive change for women?