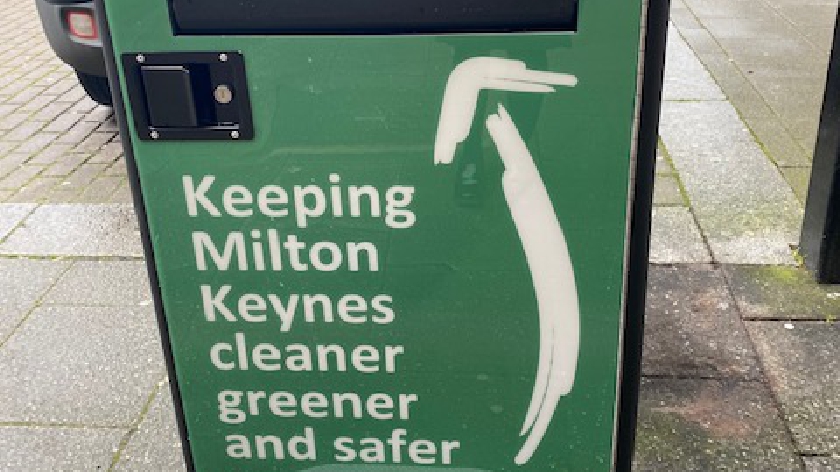 Milton Keynes Council is currently taking down dozens of bins in Central Milton Keynes and will soon roll out the project across the borough.
The project is part of a council backed drive to install solar panel 'smart' bins across Milton Keynes.
Twenty bins are able to take five times more rubbish than the standard bins across CMK and contents will be crushed and compacted several times a day using the solar energy collected.
The bins open when you press a handle or a foot pedal. As they're sealed, they can stop vermin and birds, and will stop rubbish overflow onto the street. They also contain smart monitors so the council can understand when the bins are nearly full and can send someone to empty them when needed
In a meeting of the Regeneration committee, it was confirmed by officers that for every 1 solar panel bin, up to 15 old bins would be taken down.
The decision is supposed to help manage resources better but Conservative Councillors are expecting it to just add to the cities litter problem.
Leader of the Conservative Group Cllr Alex Walker said: "Solar bins may be very smart, but it can't make litter walk to them. There will be less bins where people walk, therefore there will be more litter. Location is everything when it comes to tackling litter.
"When we speak to residents, they want more bins in their communities not less. Where this has been used elsewhere in the country it has been an excuse for cutting resources, this seems to be yet another bizarre waste decision from a Labour Cabinet that has lost its grip on litter."
Current litter bins in the busiest areas of CMK have to be emptied up several times a day. The new bins will have more space for more rubbish for longer, so crews can make fewer journeys while keeping the bins from filling.
15 solar panel bins have been installed so far in Central Milton Keynes and funding is available for a further 50 bins that will be rolled out this year.
Cllr Pete Marland, Leader of Milton Keynes Council, said: "Solar bins will be placed where demand it's greatest and this can lead to the bin overflowing even when people try and do the right thing. The solar bins have a higher capacity and automatically indicate when they need to be emptied, so they will really improve how places look and will reduce litter.
"The council provides loads of bins but there can't be one on every street corner. If there isn't a bin people should take their litter home. It's not a very difficult to respect your community and I think the vast majority of people know that. If they don't then Labour's plan is to introduce wardens to issue spot fines. If you disrespect your community by dropping litter you should pay the price.
"Sadly it's more negative campaigning from the Conservatives who have nothing positive to say. Rather than condemn people for dropping litter they condone it. It's quite simple, their message should be dropping litter isn't acceptable, but instead they are siding with those that break the rules."