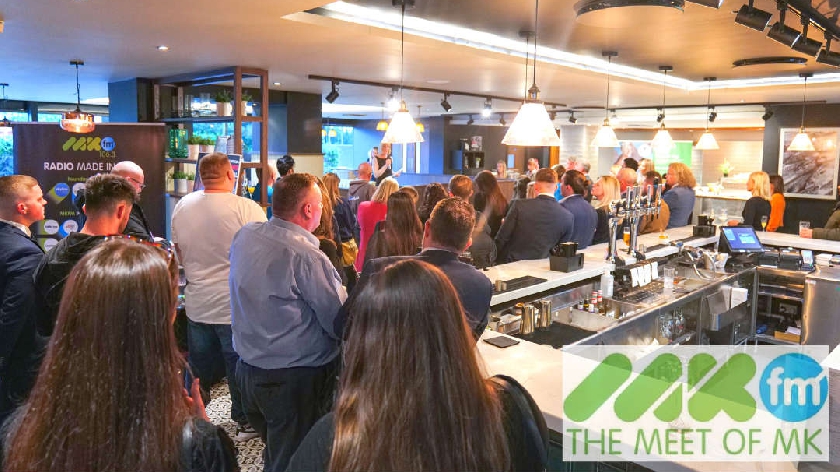 Find out how you can book tickets for our next event that includes a buffet and welcome drink here...
The Meet of MK is held at Marco's New York Italian in central Milton Keynes on the last Thursday of every month. Welcome drinks are served from 5pm, guests will enjoy some of Marco's favourite nibbles, networking with like-minded local businesses and organisations. There will also be an update of MKFM, a raffle (so bring your business cards), and some guest speakers with the event closing at 7.30pm.
Book to attend future events - CLICK HERE - tickets are available on a first come, first serve basis.
Dates for 2022 also include:
Thursday 28th July

Thursday 25th August

Thursday 29th September

Thursday 27th October

Thursday 1st December
The Meet of MK was launched four years ago as an alternative to some of the already well established networking events in Milton Keynes. The event sees lots of new faces, as well as regular attendees, on the last Thursday of every month as local businesses and charitable organisations connect in a relaxed environment.
Joanne Ronan, Head of Sales and Advertising at MKFM says, "The Meet of MK feels more like after work drinks and allows our attendees to relax at the end of each month. The event sees a great mix of businesses attend, including many of our partners, and is always a great evening with attendees making new contacts and friends. We hope to see you all at the next one!"
Darren Dorrington, MKFM's CEO adds, "The Meet of MK is a great event and gives me the opportunity to inform the Milton Keynes business community of what MKFM is contributing locally. Many potential advertisers come along and meet our existing clients to hear first-hand what it is like to work with us. It's always a great end to the month in a relaxed environment and I can't wait for The Meet of MK next month."
Please book your tickets online via Eventbrite here.
Current MKFM clients please contact your account manager to book tickets.
Car parking is available outside the venue at Holiday Inn, 500 Saxon Gate, Milton Keynes MK9 2HQ. To take advantage of The Holiday Inn's free parking please provide your vehicle registration at the hotel reception upon arrival.
Check out our video below from the Meet of MK in March to see what you can expect at the next event...