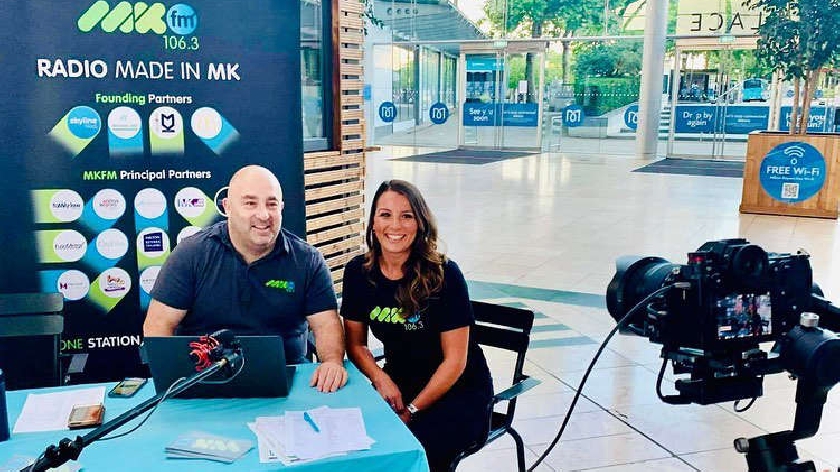 …I know, we can't believe it either! Darren and Lia have been waking up Milton Keynes every weekday morning for the last 5 years (when Michael Blades isn't covering for them).
MKFM's troublesome twosome have all the latest news, weather, and travel for Milton Keynes in addition to the best music to start your day from 7am.
As well as all the latest information for the local area, Darren and Lia get that grey matter working first thing with regular features and competitions including Call My Bluff, Mrs. D What's for Tea, and most recently Darren and Lia's Treasure Chest.
Speaking of her time hosting the MK Breakfast Show Lia says: "We've been through a hell of a lot over the last 5 years together and it's always such an honour to share that time with our loyal listeners.
"Whether we're unpicking the news of the day, discussing local issues, or having a bit of banter, being a small part of somebody's morning routine will forever be the best part of our day."
Darren adds: "Breakfast is the show we said we would never do and after agreeing to do it for a few months, 5 years have already passed. We didn't think for one minute that we would have ended up being the longest serving Breakfast presenters in Milton Keynes. Every dog has it's day, we had ours about 4 years and 11 months ago."
Call My Bluff
Darren tries his best to outwit Lia with a daily stat that has three possible answers, one is correct, two are totally made up. They play daily at 7:45am and you can help Lia by contacting the studio - which always winds Darren up.
Mrs. D
Wondering what to have for your tea? Have no fear as Mrs D is here daily at 8:30am with food inspiration for what to cook. As well as some handy suggestions for parents, her catchy song will have the kids singing in the car on their way into school. "Mrs. D, what's for tea?"
Darren and Lia's Treasure Chest
Throughout June, Darren and Lia have given listeners the opportunity to win prizes from their trove of treasure every weekday morning. Listeners have been tuned in to hear the daily code to unlock Darren and Lia's Treasure Chest for their chance to steal some booty or gamble their prize by walking the plank for a chance to win a star prize of their choice. From smart televisions to family day trips out, MKFM has given you a reason to say "Ooh Arrr"!
Listen to the MK Breakfast Show with Darren and Lia weekday mornings, 7am – 10am. Tune in on 95.0FM, 102.1FM, 106.3FM, DAB Digital Radio, online, on your mobile and smart speaker.