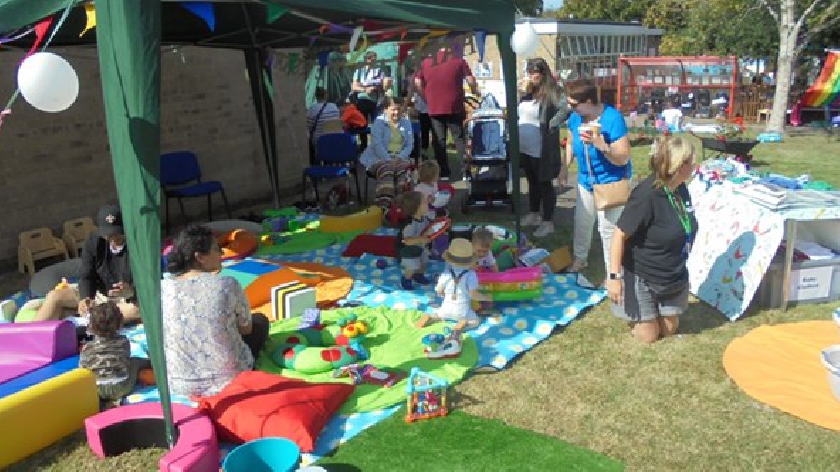 On Saturday 31st August, local residents joined together to celebrate 10 years of the Daisychain Family Centre in Bletchley.
The event included outdoor stalls and games, dancers and a petting zoo and was attended by over 250 adults and children who turned out to show their support for the centre.
MK Mayor Sam Crooks kicked off the celebrations and officially opened the Caravan Café. The new Café will operate in partnership with White Spires School supporting young people to gain experience and qualifications 2 to 4 days per week. It will serve hot drinks and food made by the students.
Cllr Crooks also opened the new allotments which include a giant remembrance poppy wreath and a bench to mark ten years. It is hoped that food grown in the allotments will help supply a local community fridge.
Cllr Zoe Nolan, Cabinet Member for Children and Families said: "It was such a delight to see the local support for Daisychain as they celebrate this big milestone. Family centres, along with libraries, schools and youth clubs, are at the very heart of our communities and so many people depend on the great services they provide. I met many families who had received the help they needed from Daisychain. I know volunteers and centre staff worked really hard to make this event such a fun experience for families and I look forward to their next birthday!"
Daisychain Family Centre, which first opened in 2009, continues to offer support and services for individuals, children and families across all age ranges. They offer support with child development and parenting, health, adult learning, specialist support, information and routes into work, as well as a number of opportunities to get involved in centre life and volunteering.
The birthday event was supported by local support police and fire brigade, St Johns Ambulance volunteers, Buttons Preschool and Ark Farm.