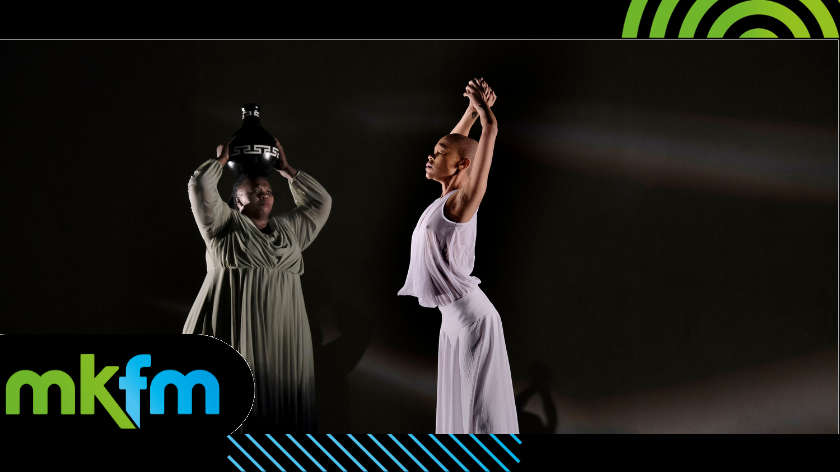 Image credit: John Hogg
The Sacrifice by South African choreographer and dancer Dada Masilo is heading to Milton Keynes this month.
South African choreographer Dada Masilo's reimagining of Giselle was a huge success on a Dance Consortium tour of the UK in 2019.
This year, her latest work, The Sacrifice, inspired by Pina Bausch's The Rite of Spring and Igor Stravinsky's monumental score coming to Milton Keynes Theatre 17 & 18 March.
For The Sacrifice, Masilo combines the European heritage of The Rite of Spring with the uniquely rhythmic and expressive movements of Tswana, the traditional dance of Botswana, often used in storytelling and in healing ceremonies. She says: "I wanted to explore ritual, what sacrifice meant to the Tswana people then and what it means now. Narrative is very important to me. I wanted to create a story that is deeper than a chosen maiden dancing herself to death."
An all-South African cast delivers an exhilarating performance where the wrongs of the world can potentially be alleviated through the power of the community.
Twelve spectacular dancers hold the stage with their earthy rooted mix of traditional Tswana moves and contemporary dance, performed to an original score composed by the four musicians.
The dancers interact throughout, often to humorous effect, with violinist Leroy Mapholo, percussionist Tlale Makhene, pianist Nathi Shongwe and opera and gospel choir singer Ann Masina as a powerful mother/goddess figure. At its heart is the epic struggle of the sacrificial victim, danced by Masilo herself. The Sacrifice questions the evil that humans do to themselves and asks what we have to do to change.
The dancers are Dada Masilo, Julia Burnham, Lehlohonolo Madise, Refiloe Mogoge, Thandiwe Mqokeli, Eutychia Rakaki, Leorate Dibatana, Lwando Dutyulwa, Thuso Lobeko, Songezo Mcilizeli, Steven Mokone and Tshepo Zasekhaya. Costumes are by David Hutt with lighting and projections by Suzette le Sueur.
The original soundscore is composed by the musicians themselves.
Dance Consortium is a group of 18 large-scale theatres with a mission to bring the best international dance to stages across the UK and Ireland.
Tickets can be booked here.