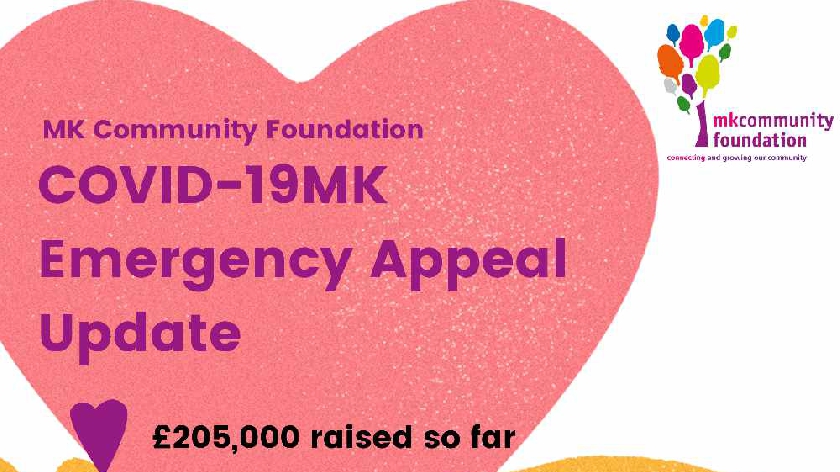 A Covid-19 MK Emergency Response Appeal launched by Milton Keynes Council and Milton Keynes Community Foundation has raised £205,000 in donations and supported 32 groups with over £100,000 in total in grants.
The emergency appeal was launched on Friday 20 March by Cllr Hannah O'Neill, Cabinet Member responsible for Health and Wellbeing and Ian Revell, Chief Executive of MK Community Foundation, to support charities and community groups in Milton Keynes helping vulnerable people through the coronavirus outbreak.
With £50,000 from MK Council which kickstarted the appeal, £100,000 from MK Community Foundation fundholders and £55,000 from individual donors in the community, the appeal has so far raised £205,000, more than half of the £400,000 target set for the end of June.
Further funding of £81,000 from National Emergencies Trust Fund is also available to support grants to groups working at the frontline to tackle the Covid-19 emergency and its impact on the communities in Milton Keynes.
£105,000 has been distributed by MK Community Foundation in grants to 32 community groups to deliver frontline services to those most in need. This work has ranged from distributing food and essentials to families in most need to providing services to vulnerable members of the community. There's also been essential work funded to help those in isolation stay connected through digital tools and infrastructures.
Some of the groups funded so far include Aylesbury Vale and Milton Keynes Sexual Assault and Abuse Support Service, Al's Pals, McIntyre Care, Melting Pot, Milton Keynes Hindu Association, Milton Keynes YMCA, Mind BLMK, Puzzle Centre and Service Six.
Elsewhere there have been opportunities to connect trusted partners such as Dreamsai and MK Food Bank to work together to accelerate reach and maximise impact.
The appeal will continue running until the end of June and the donations will go towards funding frontline outreach and recovery work to ensure all communities are supported throughout this period.
Cllr Hannah O'Neill, Cabinet Member responsible for Health and Wellbeing said:
"In these extraordinary times it is more important than ever that we come together as a community to help those organisations that are on the front line supporting those most in need. Milton Keynes Council is proud to be able to contribute to this fund and help ensure that local organisations can continue to operate throughout the crisis and in the future."
Ian Revell, Chief Executive of MK Community Foundation said:
"Since the launch of the appeal we've had tremendous support from our fundholders as well as Milton Keynes residents who've given generously. We are delighted that such generous giving has meant we are able to give up to 10 grants every week. Our team has been working hard over the last few weeks to make sure that the grants are processed and distributed to help groups continue their efforts on the frontline. We will keep the momentum going to make sure that our communities not only make it through this time of disruption but also recover speedily to come out at the end much more resilient."
To see the grants provided so far, visit: https://www.mkcommunityfoundation.co.uk/news-events/milton-keynes-community-foundation-news/2020/grants-funded-through-emergency-appeal
To donate, visit https://www.mkcommunityfoundation.co.uk/mk-emergency-appeal
Community groups looking to apply for funding should visit:
https://www.mkcommunityfoundation.co.uk/mk-emergency-appeal-criteria or call 01908 690276