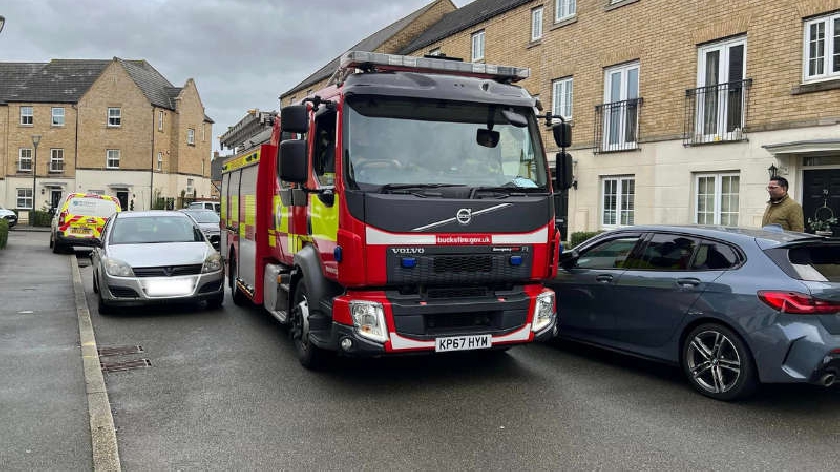 Image: Tattenhoe Ward Conservatives
Conservative Councillors within the Tattenhoe ward have been working with Buckinghamshire Fire and Rescue to crack down on 'poor and dangerous' parking.
Following concerns from local residents, the Conservative Tattenhoe Ward Councillors have joined up with Buckinghamhshire Fire and Rescue to launch a brand new campaign.
Beginning yesterday (27/11), the fire department, alongside local Councillors James Lancaster, Shazna Muzammil, and Manish Verma, distributed flyers, knocked on doors, and spoke to people about the 'importance of mindful parking'.
James Lancaster, local councillor for Tattenhoe Ward, said, "The safety of all residents is utmost, and so we planned this joint operation to highlight the importance of parking safely, as we do not want ever want our residents to feel that the emergency services cannot get to you on time." Lancaster continued, "This has to be a collective effort, and we can't make it work without the residents' support, understanding, and collaboration."
Local councillor, Shazna Muzammil, said "We are attempting to promote safer and better parking for emergency vehicles to enter the streets as fast and safely as feasible. We do not want you to park in such a way that a fire engine, ambulance, or other emergency vehicle cannot get through to aid other people, potentially putting lives at risk."
Local councillor, Manish Verma, said "As Ward Councillors, the safety of our resident's is our upmost priority. We call on all our residents to engage with this campaign and play their party to keep our communities safe. We hope that our campaign will kickstart action across Milton Keynes, promoting safe parking and roads for our residents and emergency services alike"