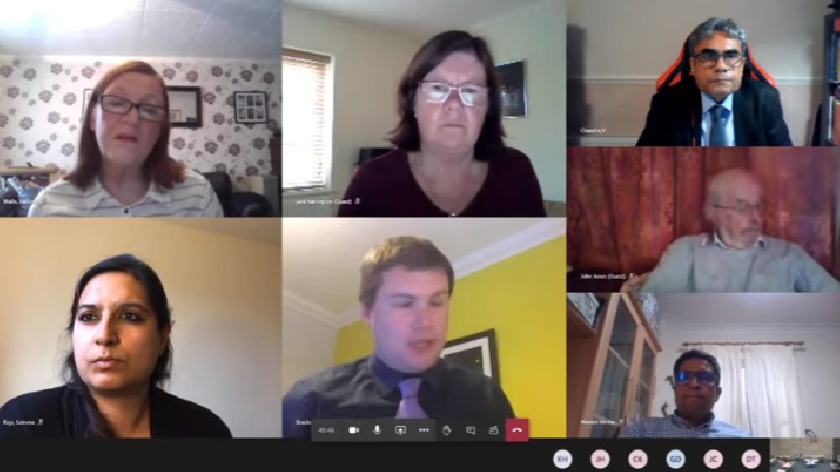 An appeal hearing has upheld an earlier finding that a parish councillor in Milton Keynes breached the code of conduct.
Cllr Vikas Chandra claimed that a Milton Keynes Council officer had been biased against him at a hearing in February and that he had not broken rules about sharing the council clerk's confidential employment information.
The standards appeal sub-committee heard on Thursday that there has been a "multi-year" dispute at the parish council, which suffered a mass walkout of councillors in September 2018.
At one stage Cllr Chandra was the only active councillor and was accused of following a "destructive agenda".
Cllr Chandra, who says he is interested in making sure the council acts within the law, was found to have been disruptive and "bordering on bullying". But the hearing in February decided that he did not cross the line.
As well as breaching confidentiality he was found to have broken a rule that councillors should "conduct themselves in a manner which will tend to maintain and strengthen the public's trust and confidence".
Cllr Chadra said he had supplied papers to the hearing that were not considered.
And he said because the clerk's employment details were being discussed locally, and that he did not show any documents to anyone, he had not broken the code.
But he admitted that he had spoken to a Labour party official, Martin Rudd.
Mr Rudd then spoke to the clerk, Abi Bassett, about it. She then lodged a complaint.
Cllr Ric Brackenbury (Lib Dem, Campbell Park & Old Woughton) said Cllr Chandra had presented "weak evidence of bias".
Cllr Chandra replied: "They ignored evidence. That is a definition of bias."
But Cllr Brackenbury added that if the committee was biased why would they find in his favour over the accusation of bullying.
"It seems to me that they treated you very fairly," he added.
The sub-committee agreed that Cllr Chandra did not have the right to share confidential information.
They also found that no new evidence was presented to make the original decision wrong.
Cllr Brakenbury also said they were satisfied that there is "insufficient evidence that there had been bias."
Parish council clerk, Abi Bassett, also lodged an appeal claiming her grievance against the parish council, as her employer, had not been dealt with.
"This has been a time of great stress for me," she said. "Vikas is part of the body that makes up my employer.
"I have been falsely accused in public of wrongdoing.
"It's been 14 months since I lodged the grievance and nobody has heard me. I don't know where I am supposed to go from here, if this doesn't get heard today."
Cllr Brackenbury said he was happy to apologise that the grievance wasn't considered in February but there was nothing to suggest it would have changed the original verdict.
The meeting was told the decision ends the council's standards process.