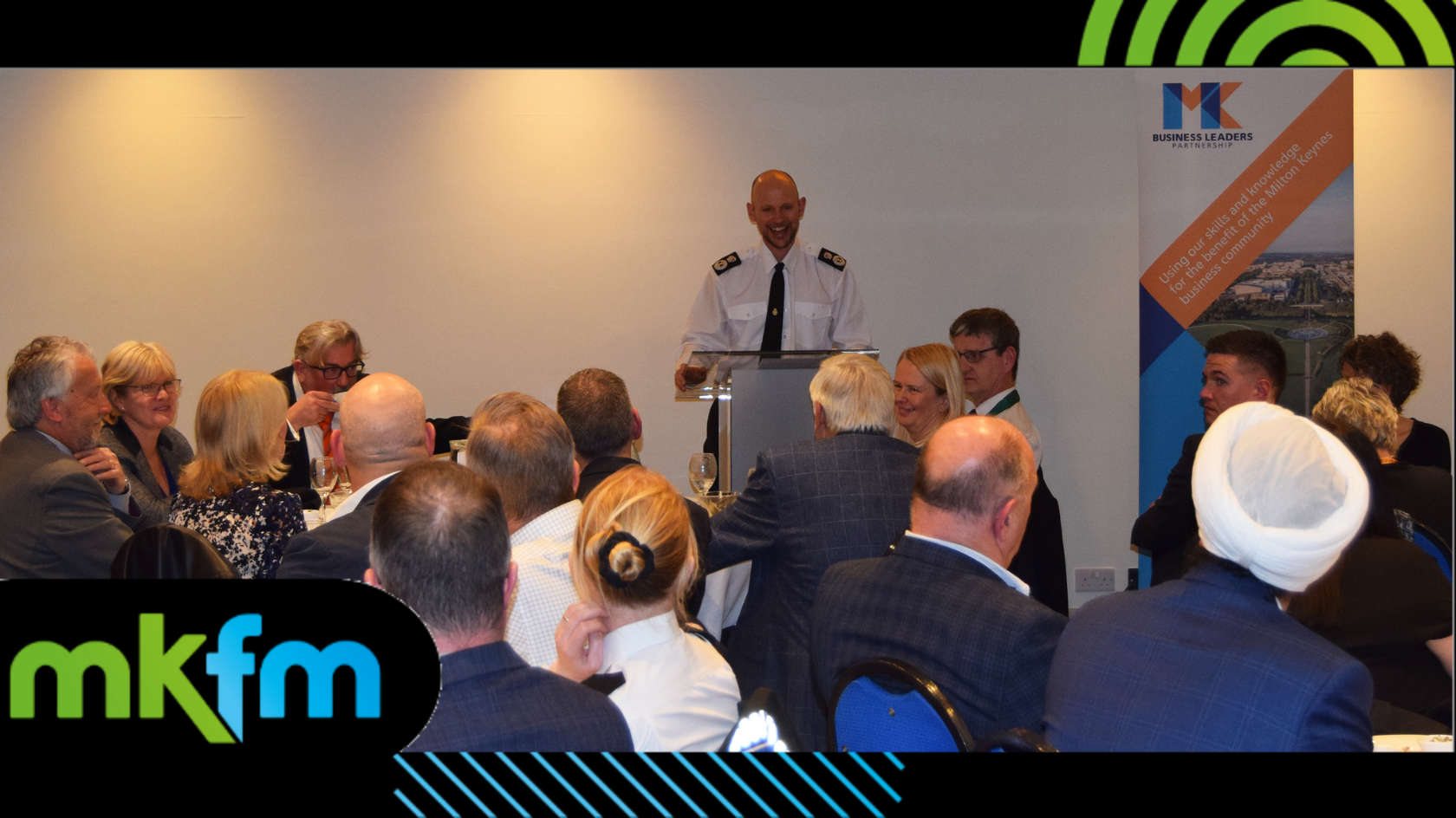 The new Chief Constable of Thames Valley Police has announced his priorities for policing across Milton Keynes and called upon businesses to help restore faith and trust in the force.
Jason Hogg, who took up his new position at the helm of Thames Valley Police, the UK's largest non-metropolitan force, on 1st April, laid out his plans to businesspeople from across the city at the latest MKBLP members' event.
Outlining a commitment to focusing on serving victims, fighting crime, and building trust and confidence in the police, Mr Hogg announced his intention to double the number of neighbourhood police officers, with greater support from the public: "Policing is too important to be left to the police alone, we need to maximise the eyes and ears in the local community to tackle crime."
Emphasising the strong relationship Thames Valley Police has with Milton Keynes, and how citizens are working cohesively together to mitigate crime and re-offending, Mr Hogg commented: "Within 90 minutes of a young person below the age of 17 being arrested with a knife in Milton Keynes there is an intervention. This is testament to the power of communities and groups working to achieve the same goal."
While touching upon the Knife Angel, the 27ft sculpture made from 100,000 bladed weapons, which was located outside Stadium MK in December last year, Mr Hogg was questioned by MKBLP members, which included representatives from charities such as Hazard Alley, about how initiatives to educate young children about the risks and consequences relating to knife crime could be sustained.
Highlighting how impactful it is when a Police Community Support Officer (PCSO) works directly with schools to help deter future crime, Mr Hogg openly admitted to the resources issues Thames Valley Police is currently facing, which is deterring this positive action: "Right now, we have 140 vacancies, and while we don't have a problem recruiting good, quality people, retaining them is a challenge. PCSOs are some of the lowest paid individuals in the force and this is something that I am looking at right now."
Emphasising the acute issue of the cost of living versus the low pay, Mr Hogg commented that he will be working with other Chief Constables across the South East, to lobby the Government. He commented that there are a suite of measures in place to counteract issues surrounding retention: "Resources are stretched, we have refocused our limited resources and response times are not where I would like them to be"
With the average call wait time at 2.5 minutes, Mr Hogg explained that Thames Valley Police are in the process of using robotic automation to manage the calls they receive a week: "We are set to be the first force in the country to use robotic automation to handle demand and we are encouraging more people to report online."
While retention remains a challenge, the drive to create a diverse workforce and harness a new generation of talent is paying dividends: "By July this year, 70% of our response teams will have less than two years' service, 44% of our recent recruits were women, while 18% recruited last year were from black, Asian and minority ethnic communities."
Mr Hogg credits the work of the force's Positive Action Engagement Team who are generating a diverse pipeline of candidates, highlighting the fact that, in the 30 years since Stephen Lawrence died, the annual intake of new recruits from the BAME community has hovered over the 5% mark: "It's been a hard journey."
The murder of Stephen clearly left a mark on Mr Hogg, who began his career in the wake of the horrific murder. At the time, the public questioned whether the police were inherently racist but in recent years other offences, committed by serving police officers, has shaken the public's trust.
Raising the recent, high profile incidents which has impacted the police, particularly in the MET, Mr Hogg commented how these have impacted public confidence: "There are over 40 police forces across the UK, we are separate from the MET, but trust in the police is lower than it has been in years, and we all have to take responsibility. I will work tirelessly to build trust and a high professional standard, and we are making progress."
The MKBLP members' dinner was sponsored by MyMiltonKeynes and CEO Melanie Beck led the questions to Mr Hogg by relaying several issues facing BID levy payers. Notably, how retailers are seeing larger numbers of shoplifters during lunch hours, the number of car crimes, which still remains high, and how employers want to ensure that their workforce feels safe in all settings across the city.
While Mr Hogg continues to push for greater resources, he called on businesses to share prevention messages to minimise the risk of car crime, including not leaving valuables in view, and to ensure that all crimes are reported: "We are not just focusing on the offence but targeting the offenders, those who are repeatedly committing crimes to bring the risk down for the public."
Mr Hogg's parting note to members was this: "We need to build trust in our local communities, and show that the police are on your side, we will be there in your time of need, we may not always get it right and when we don't, we will apologise. We need your help and support to share the many positive interactions."