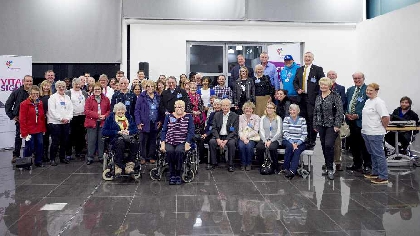 Every year MK Community Foundation invite voluntary and community sector groups from across the city to take part in the annual Charity Car Raffle to raise funds to support their work!
The groups who take part retain at least 50% of the funds raised from ticket sales and the remaining money goes towards MK Community Foundation's grant-making programme, benefiting many people across Milton Keynes.
Incredible achievement
There was a fantastic feeling of achievement as it was announced at the presentation that collectively the groups raised over £21.940! MK Community Foundation would like to thank everyone who sold tickets and indeed those who took the chance to win a car for just £1 and bought a ticket!
First prize-winners
The winners, who have both lived and worked in MK for many years, explained how they don't normally buy a ticket but decided to take a chance this time as they walked past 'The Friends of Willen Hospice' at the car over the Christmas season at centre:mk.
As you can imagine they were delighted to receive the call the day after the draw to say they had won first prize! MK Community Foundation was thrilled to present the winners with the keys to their new Volkswagen up! beats 1.0 90 PS TSI 5-speed car at a presentation evening held at the Volkswagen showroom in Milton Keynes on 21st March.

Dave and Sheila, MK Community Foundation Car Raffle winners said, "We needed to buy a new car so we were really chuffed - it's the best £1 we've ever spent."
Second prize-winners
The lucky second prize-winners won £500. They are in their first year of retirement together and have lived and worked in the area since 1991. They take part in the raffle every year and are happy to support local community causes by buying a ticket for the car, so we were very excited when their ticket was picked. They are planning to put their winnings towards their upcoming trip to Japan. We would like to congratulate them once again and wish them all the best for their holiday and the future.
Third Prize-winner
The third prize-winner, Lara, was very happy to win £250, she commented;
"This year after I wrote off my car skidding on ice in November, we made sure I had tickets for this year - you never know! Even though I did not win the car, I am really chuffed to win 3rd prize as I never win anything!"
Partners
MK Community Foundation is extremely grateful to their partners Volkswagen UK Ltd, who donated the grand prize, centre:mk for supporting us by donating their valuable location in a very busy shopping season, Freestone Creative for creating our display graphics and MK Lightning who hosted our draw at Planet Ice.
Get involved in the Community Car Raffle for the 30th Year!
Next Year is the 30th anniversary of the MK Community Car Raffle, make sure your community group or charity is on board to make the most of this fantastic opportunity to raise both awareness of what you do and funds towards your valuable work.
To find out how your group can get involved in the 30th Charity Car Raffle visit http://www.mkcommunityfoundation.co.uk/grants/charity-car-raffle/