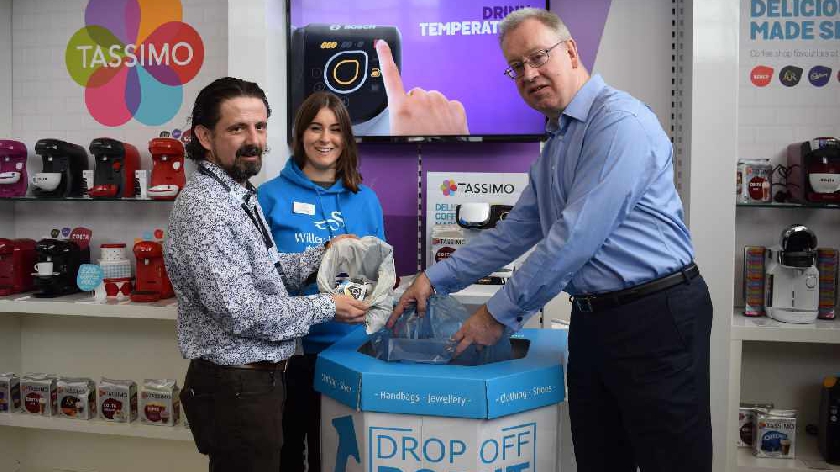 BSH Home Appliances, based in Wolverton, is helping Willen Hospice raise funds by recycling used coffee pods.
BSH Home Appliances is a market-leading manufacturer of Bosch, NEFF, Siemens and Gaggenau home appliances, with offices in Wolverton. From this office it regularly displays and demonstrates its coffee machines to colleagues and customers in its product showroom. During the course of each day, the company can use several dozen disposable coffee pods during live demonstrations and many staff also have the machines at home, so there was a perfect opportunity to work with Willen Hospice on its latest recycling initiative.
Nigel Eccles, Head of Accounting & Tax at BSH, who is a keen recycler at home, was looking at how the coffee pods could be recycled and spotted an opportunity to not only achieve this objective but also allow BSH to help a local charity raise vital funds.
Nigel commented "We've worked with Willen Hospice on a number of initiatives over the years, and when we found out they were raising funds by recycling coffee pods, it was a natural next step for us to work together on this too. I am delighted that we are able to help Willen Hospice and make a positive contribution to caring for the environment at the same time."
Amy Shaw, Corporate Fundraiser for Willen Hospice said "We are happy that BSH are committed to recycling their pods and we've provided them with one of our Donation Stations – a large cardboard container that they keep outside their staff restaurant. The pods are collected and stored until we arrange collection.
Willen Hospice works with local recycling champion, George Thomson of Charity Recycling MK, who in turn sends the used pods to Terracycle for recycling. All money raised is given to local charities. In the last 18 months George has donated over £4,000 to Willen Hospice.
Willen Hospice needs to raise £4.7 million each year to continue offering its care, and local businesses play an important part in helping the charity. Projects like these provide businesses with just one more way to get involved.