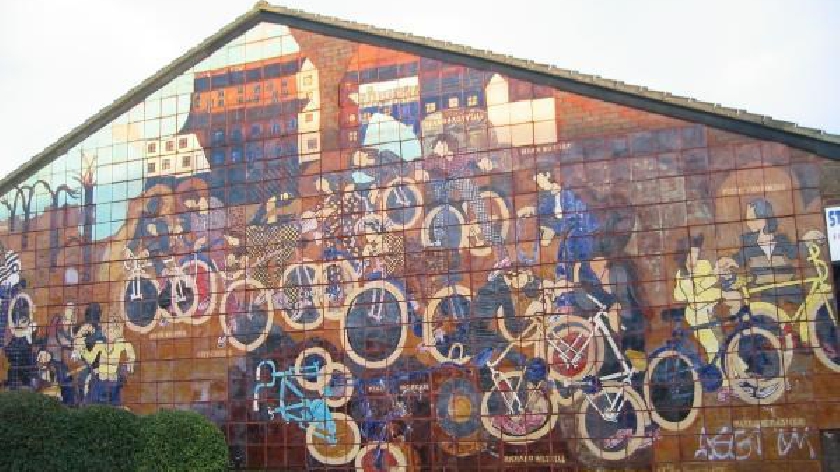 A breakthrough has been made in the saga of the future of a much-loved Milton Keynes mural.
The Bicycle Wall at Stantonbury local centre is going to be removed to make way for a new Aldi store that has already been given planning permission.
But the future of the mural has to be approved too, before the store can be built. Local people and Stantonbury Parish Council have strongly supported the new store.
But arts campaigners have fought tooth and nail at various planning meetings to dot the i's and cross the t's on securing the future of the mural.
At one stage there was a plan to remove it, cut it up into blocks and use them across the Stantonbury International School site. But that was removed amid an uproar.
There had also been a proposal to take it down and lay it flat on the ground, which was also opposed.
Now a spokesman for Aldi has confirmed that it has made a proposal to relocate the mural within the supermarket site and re-erect it in a vertical position "so that it can continue to be enjoyed by local residents."
"We are awaiting feedback from some of the stakeholders before we make a formal submission to MK Council," said the spokesman.
Ian Michie, the chairman of the Public Arts Trust, Milton Keynes, welcomed the proposal to protect the mural, which was created by ceramic artist John Watson in 1978.
It has images of school children and bicycles on hundreds of ceramic tiles.
Mr Michie said: "It is a breakthrough and good news for the citizens of Milton Keynes because Aldi has now accepted the principles of keeping the wall in one piece, in an upright position, and that they will pay for it.
"We still have our concerns over how the wall will be moved into its new position, and the potential for damage to occur, but this gives us hope that a very satisfactory conclusion will be arrived at."
Aldi is due to apply to MK Council's planning department for its approval of the eventual proposals.
Approval is needed for the plan as part of the original planning permission before the new store can be built.
The company is understood to be wanting to present a plan to the council that has widespread support.