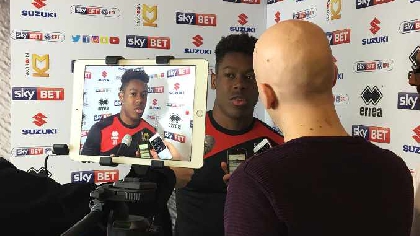 Picture courtesy of @mkdonsFC
Having been an impact-sub of late, the Dons forward is ready to take his chance when it comes.
Brandon Thomas-Asante is one of MK Dons' many bright youth prospects. Having impressed in development sides and substitute appearances, Thomas-Asante is now pushing to make a first team start, "I'm ready whenever i'm called upon, but I've got to keep being patient I don't want to rush anything prematurely, whenever that opportunity comes I've got to make sure I take that chance and that's something I've got to do myself"
Having scored a 14-minute hat-trick against Windsor FC in the Berks and Bucks FA County Senior Cup quarter finals, Thomas-Asante is looking to use that experience to help him make an impact in the first team, "The coach Edu (Rubio) is encouraging me to score and do well when I'm in there, being able to do as well as I can in those situations and when I come across to the first team I can use that same confidence that I got from the U23s and try and implement that into a first team environment"
Dons currently sit 2 points from safety in League One. At only 19 years old, Thomas-Asante may lack the relegation battle experience of longer-serving team mates but he says that enables him to be fearless, "Because I'm young I can just go in with a clear mind and be fearless because it's new to me so I have nothing to be afraid of in a sense. I've just got to make sure I'm stood up and counted for and that's all I want to do"
You can hear our chat with Brandon Thomas-Asante here: