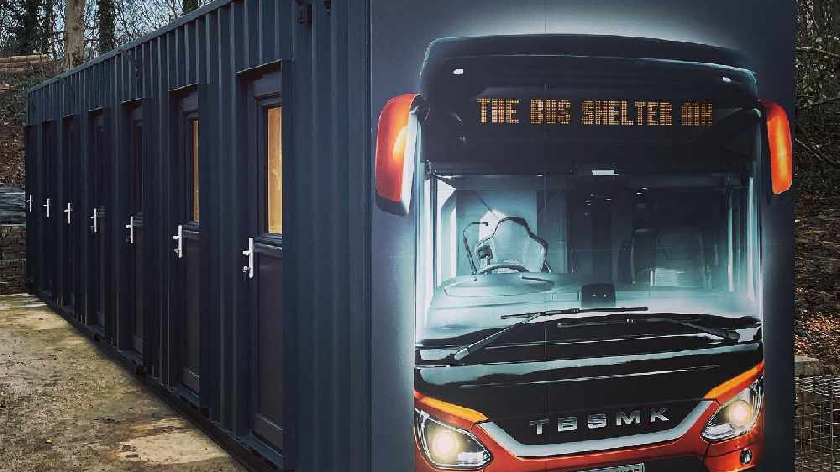 A brand new location for Milton Keynes' much-loved homeless bus shelter charity has been confirmed.
Many Milton Keynes residents will recall the sight of a converted double decker bus parked inside intu MK at the start of a fundraising campaign in 2017 to address street homelessness in the city.
Less than 12 months later, that bus opened its doors on a temporary site in Campbell Park. Since then the well-loved small local charity The Bus Shelter MK has given a temporary home to over 75 people who would otherwise have had to sleep on the streets. The charity also provides support to help its guests find work and settle into a new home. One former guest said about his experience on the bus, "I can sleep, I can eat, I can wash my clothes. I feel like a human being again".
Following over two years of successful operation at a short term site in Campbell Park, and a temporary move in 2020 to the YHA in Bradwell due to Covid, The Bus Shelter MK charity has now moved into its new long term home - a brand new homeless shelter in Stantonbury, Milton Keynes.
"We really struggled to find an alternative site to Colgrain Street, Campbell Park and feared we might have to close our invaluable service", said Dave Pickering, vice chair of The Bus Shelter MK. "We were relieved and delighted when the Council offered us a long term lease on a redundant Landscaping Depot and The Parks Trust kindly leased us an adjoining tract of land to make the site viable".
Given its former use and condition, the existing building and the whole site needed considerable renovation to provide a safe, warm home for up to nine people experiencing homelessness and a base from which to rebuild their lives.
Originally planning to take the iconic "homeless bus", Covid regulations mean that communal sleeping is no longer permitted within homeless shelters. The bus, built in 1982, was showing its age too. Time for a rethink from the innovative bunch at The Bus Shelter MK!
Thanks to funding from the Masonic Charitable Trust and the John Apthorp Charity, they have had a covid-secure sleeping pod built by Coventry based company Doodle Build. This pod will replace the bus and provide comfortable, separate bedrooms in line with Covid regulations. The eye-catching graphic on the front of the pod recognises the charity's humble beginnings with an old tour bus first spotted on an auction site.
Investment in the new site has been substantial for such a small charity. "This has been a tough year to undertake such a mammoth project", Pickering continued, "and with our fundraising income down 86% this year due to Covid-19 we've really needed to keep costs as low as possible. Many generous suppliers offered special pricing and others provided their services for free, which has been crucial to get this project over the line. We are so thankful for all their support".
The new site and innovative sleeping pod increases the number of bed spaces for The Bus Shelter MK guests to nine and provides more suitable facilities for any women guests, which was challenging in the communal sleeping arrangements on the bus. The charity continues to welcome dogs and will now be able to follow the guidance of The Dogs Trust in allowing a dog to sleep with their owner rather than in a separate kennel.