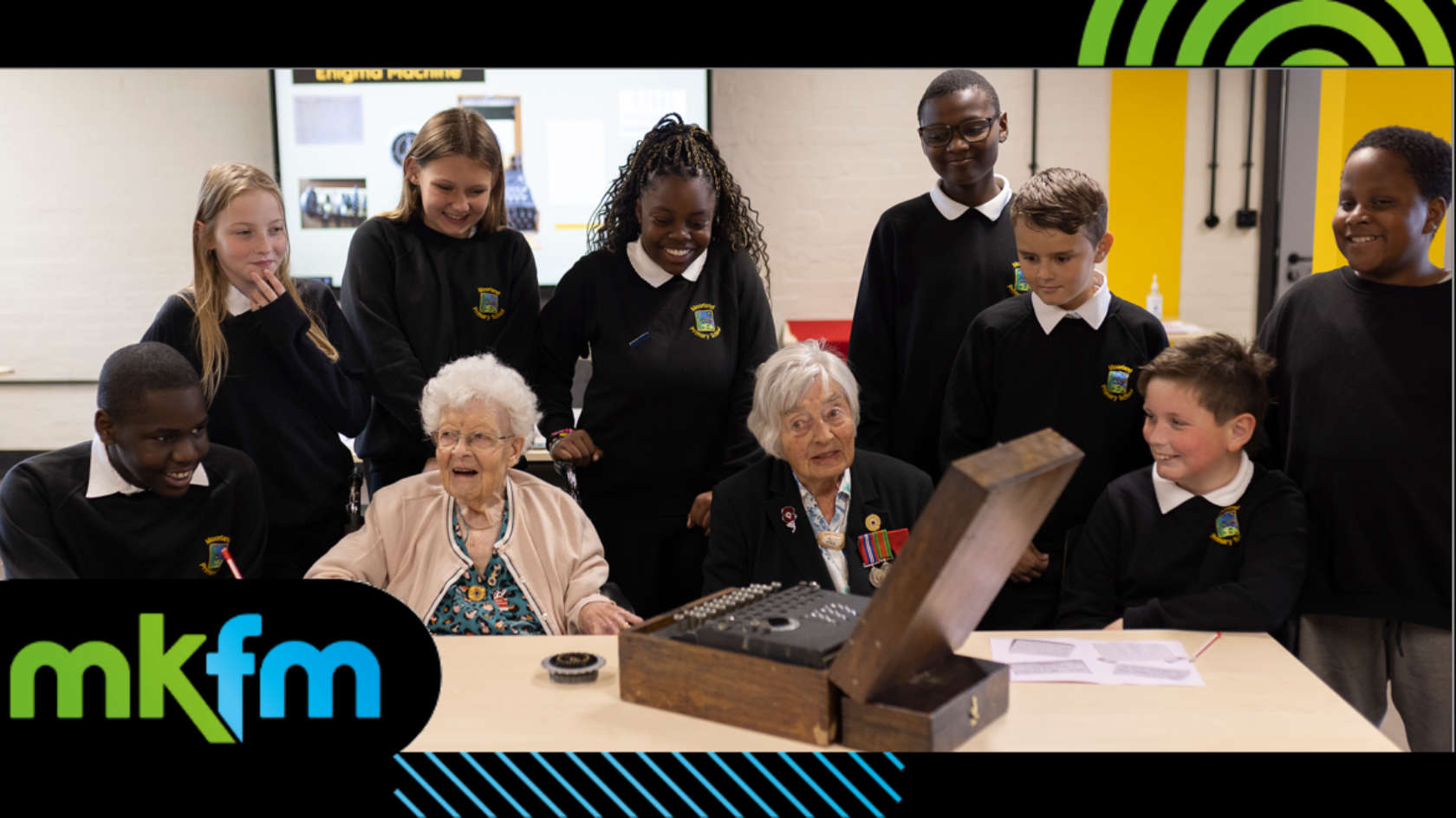 First learners from Moorland Primary School alongside 101-year-old Veteran Cynthia Holden and Special Duties Wren 99-year-old-Patricia Owtram
Bletchley Park welcomed the first group of students through the doors of its new state-of-the-art Block E Learning Centre today, housed in a refurbished once top-secret World War Two building.
The opening of the Learning Centre coincided with the anniversary of the D-Day landings in 1944.
Block E Learning Centre, an important wartime building, welcomed 29 Year Six students from Moorland Primary School in Milton Keynes.
To celebrate the opening of Block E Learning Centre a group of students had the opportunity to meet two Bletchley Park Veterans: 101-year-old Cynthia Holden who worked in the building as a Morse Slip Reader, and 99-year-old Patricia Owtram, who worked as a Special Duties Wren intercepting German Naval messages and passing them onto codebreakers at Bletchley Park.
The group also enjoyed a hands-on learning experience with an Enigma machine.
Block E was built in 1943 and was the only block devoted entirely to communications at Bletchley Park during World War Two. Using encryption machines such as Typex, staff working here handled incoming and outgoing messages, and the distribution of material to various departments throughout Bletchley Park.
The new dedicated educational spaces include eight learning spaces to accommodate everyone from primary school learners to higher education students.
The rooms are bright, well-equipped, tactile spaces, easily accessible by all learners and are designed to host a range of tailored workshops. External spaces have been reconfigured to provide coach drop-off bays and safe access for the visiting staff and students.
Bletchley Park's award-winning learning programme hosted more than 30,000 students in 2022 but, due to a lack of learning spaces, was heavily oversubscribed.
The completion of this project will enable Bletchley Park to increase capacity and grow the learning programme to accommodate even more participants in this dedicated learning facility, inspiring learners with the achievements of the Codebreakers and their relevance to today's world.
Examples of what is on offer for learners at Bletchley Park:
An overview of World War Two history, with a focus on Bletchley Park's involvement.
Codebreaking through the ages, problem solving and key mathematical skills through both formal and informal sessions.
A close-up look at wartime machinery where students are able to use an Enigma machine and other examples from the Bletchley Park collection to explore codes and ciphers, and to work as a team to solve problems, test their tenacity and exercise lateral thinking skills.
Hands-on interactive learning allowing learners to try their hand at real intelligence-management techniques used at Bletchley Park, and experience some of the daily challenges faced.
A chance to explore contemporary parallels between Bletchley Park's information-intensive wartime work and the digitised world of today.
Onsite learners also receive a guided tour around the site, providing an opportunity for students to delve deeper into the Bletchley Park story.
Miss Bekah Tompkins, Year 6 teacher from Moorland Primary School says, "We are thrilled to have the privilege of being the first school to utilise Bletchley Park's Block E Learning Centre this summer. The children have been incredibly excited for their visit, and the newly furnished facilities and classrooms on-site have exceeded our expectations, providing us with an easily accessible base for their learning activities. One highlight for the children especially, was the opportunity to meet Patricia and Cynthia.
"The valuable skills and knowledge gained by the students in teamwork, problem-solving and codebreaking will undoubtedly prove invaluable to them in the years to come. The museum has been an exceptional source of education and enjoyment, providing our children with numerous hours of enriching experiences. We are looking forward to returning in the future - I have already enquired about a visit for my class next year!"
Veteran Cynthia Holden said: "I am delighted to know that the building that I and so many other people worked in is now a dedicated space for children and young people to learn about the history of Bletchley Park, while also learning about things important for their futures. It is a fitting legacy to the work myself and my colleagues carried out here."
Lily Dean, Learning Manager at Bletchley Park, said: "Today has been an unforgettable opportunity for the students to meet Cynthia and Patricia in Block E. With the average age of the Veterans this year being 100, we are very privileged to have them both with us. Having them here really helps to bring the Bletchley Park story, and the importance of their work, to life for all of us."
Later in 2023, a 250-seat auditorium in the facility will also open to accommodate schools and other educational groups, as well as hosting a full and varied programme of talks and community and corporate public events.
The Bletchley Park Trust aims to ensure the cost of the learning programme is good value, offering a choice of options for schools. A organisations, charities and individuals, allows eligible schools to experience Bletchley Park's learning programme for free.
The completion of the Block E Learning Centre concludes the third phase of Bletchley Park Trust's biggest refurbishment project to date at a cost of £13-million. The Block A and E project is part of the Trust's ongoing work to create a world-class visitor attraction and museum, by creating new galleries, a collection centre and now a learning facility.
Bletchley Park Trust is grateful to all the generous supporters who have made this exciting project possible.
Notable support for the refurbishment of Block E and creation of the Learning Centre has been received from the Towns Fund via Milton Keynes Council; the Foyle Foundation; the Garfield Weston Foundation; the Thomas L. Kempner, Jr. Foundation Inc.; the Post Office Remembrance Fellowship; and
Dr Edmund O. Schweitzer III and Mrs Beatriz Schweitzer.
Specific funding for equitable access has been provided by the MK Community Foundation. Support for free workshops and travel bursaries in 2023/4 has been provided by the IBM UK Trust.
To find out more about Bletchley Park's Learning Programme, visit the website.