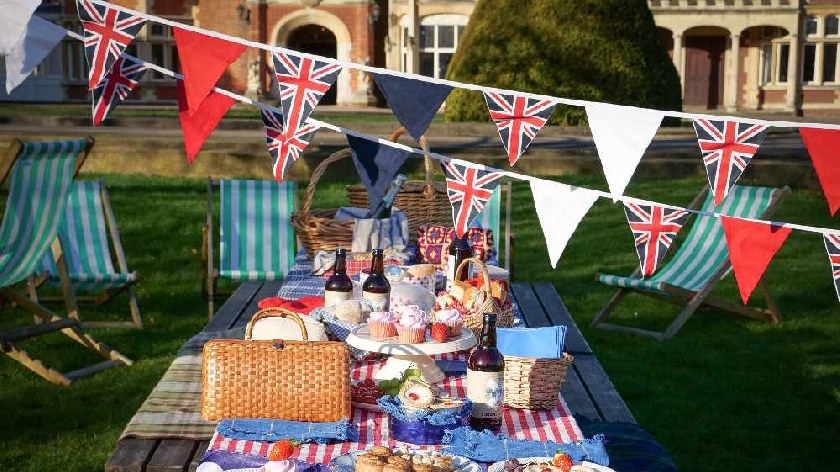 Bletchley Park has launched "Bunting for Bletchley", a boredom buster appeal for bunting donations to help decorate Bletchley Park when it reopens.
Bletchley Park, in Milton Keynes, is appealing for 'budding bunting makers' bored at home to help make over 1,945 metres of red, white and blue bunting to decorate the museum and heritage attraction when it reopens to the public.
The 'Bunting for Bletchley' project was originally intended to be a community initiative to coincide with Bletchley Park's now cancelled on site 'VE Day 75 Street Party' event (Friday 8 - Saturday 9 May 2020), inspired by the famous celebratory scenes witnessed across Britain 75 years ago.
"Now we are closed to the public for the foreseeable future, we have sadly had to cancel our public VE Day 75 event on site, however that doesn't stop us coming together as a community online. We would love to decorate the site with red, white and blue bunting to create a real celebration atmosphere for when we are able to reopen", said Rebecca Foy, Director of Public Engagement at Bletchley Park.
"We thought it might also just bring a bit of fun for people stuck at home looking for an excuse to get creative – why not make some to donate to Bletchley Park, and some for you to have a VE Day 75 party at home? Hopefully it's something the whole family can join in with and help spark conversation between different generations isolating apart."
On Friday 8 May 2020 Bletchley Park will be marking the 75th anniversary of VE Day online with a digital 'Nation's Toast' at 3pm, and a special recording of a VE Day speech by 'Prime Minister Sir Winston Churchill'.
A #BuntingForBletchley template and guide is now available to download from the Bletchley Park website, where further activities and fascinating VE Day archive material will be shared in the run up to VE Day 75.
In the spirit of wartime 'Make Do and Mend' budding sewers are being asked to use any materials in red, white and blue to design and make bunting, including old items of clothing, offcuts, free fabric or other recycled materials.
Bletchley Park is launching this campaign to give people something to focus on whilst following the Government advice to stay at home. Please sign up to the Bletchley Park e-newsletter or regularly check back on the Bletchley Park website for information on when to submit your bunting to the site. To avoid unnecessary pressure on postal services and unnecessary travel, no bunting should be sent to Bletchley Park until submissions officially open.
Click here to find out how to make VE Day bunting.