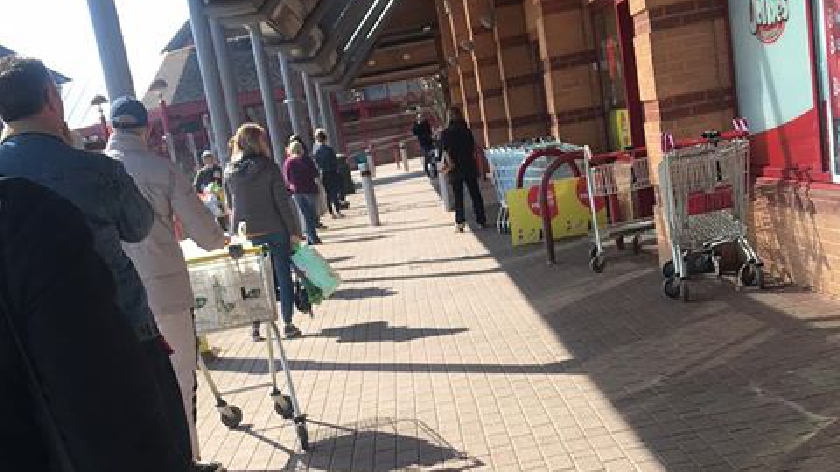 Local residents have been forming long queues and waiting up to an hour to get their prescriptions from pharmacies in the MK area.
This follows the news that today (24/3) marks the first day of the Government's stricter rules on movement, essentially a lockdown, meaning that people should only go out when it is absolutely necessary.
Residents have shared pictures of long queues forming outside local pharmacies. One local told MKFM that they had to wait for half an hour outside Boots in Westcroft before getting into the store.
"30 minutes we were queuing and there are further queues inside within distance," she said.
"They have shut the cosmetic aisles but most of the customers want medication. There is staff at the door doing a one in one out policy. Pharmacists are struggling saying [that] some doctors are shut so they can't get prescriptions to them."
People have said queues were the same outside Boots in Newport Pagnell and the pharmacy in Bradwell Common. "I waited an hour yesterday with my baby and was only collecting an order," added another resident.
Although the queues are getting longer, residents appear to be following the Government's rules on social distancing by keeping at least 2 metres apart.
However, these queues could be dramatically reduced if people were to attempt to make the switch to ordering their prescriptions online and getting them delivered where possible.
The NHS offers an Electronic Prescription Service (EPS). It is an alternative way for people to get their medicines and gives you the chance to change how your GP sends your prescriptions to the pharmacy, according to diabetes.co.uk.
GPs can send repeat prescriptions to the online services, meaning that you do not need to visit a GP practice nor pharmacy to get your prescription. It will be delivered to your home.
There are various sites that offer a delivery service, including Pharmacy2U, which is the UK's largest online pharmacy. It offers free delivery on all NHS prescriptions.
This is being encouraged to ensure people are only going out if they truly have to.
To order a prescription online via Pharmacy2U, you must tell them what medication is required. The online pharmacy will then order and receive the prescription from your GP. Pharmacists will then check the prescription and it will be sent out to you completely free of charge. Find out more about Pharmacy2U here.
Lloyds Pharmacy also offers an online service where patients can order prescriptions via their website or app. Repeat prescriptions can be requested and delivered for free. Find out more.
Although it is likely that electronic prescriptions and delivery services will be facing high demand, it is worth enquiring to your local pharmacy to see whether delivery of your repeat prescription is available. This way you can reduce going out wherever possible.
To find out more about electronic prescriptions, please click here to visit the NHS website.