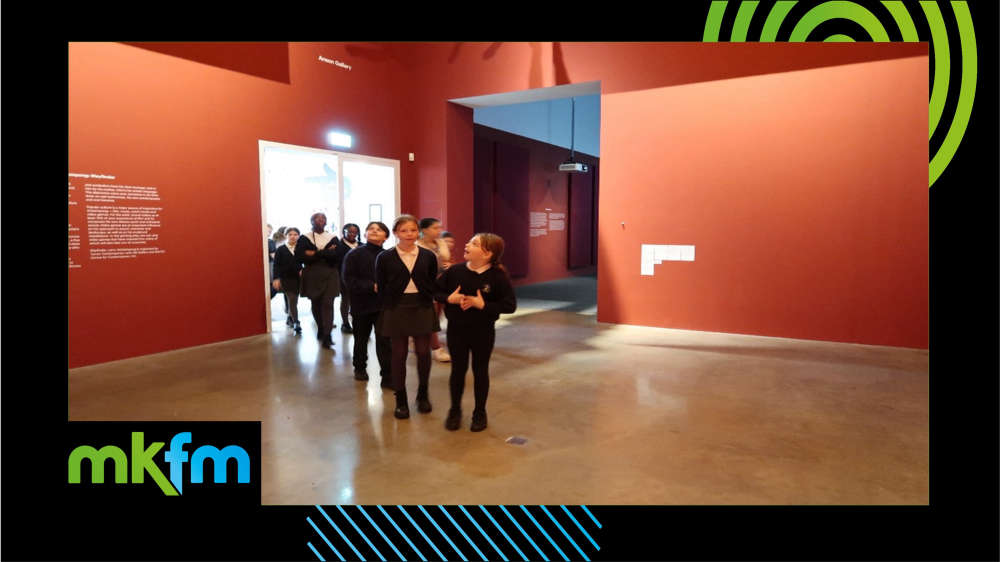 More than a thousand primary school children from eight schools across Milton Keynes came to see world-class art in their local, world-class Gallery.
The big draw for schools was the Larry Achiampong: Wayfinder exhibition which ran from 15 October 2022 to 15 January 2023 at the Gallery.
Some schools booked the Scout About Tours and had their own tour of the exhibition by associate artist Jonny Clapham. For several children, it was the first time they had visited a gallery, the first time they experienced an art exhibition.
The show, by the British Ghanaian multi-media artist, included Relic Travellers suspended from the gallery ceiling, large pan-African flags, detention blackboards, and a feature-length film in a darkened gallery.
With the last gallery converted to a gaming room, many children were surprised to see that even computer games can be considered art.
Ian Weatherburn (Year 6 teacher and Art Coordinator) at Wavendon Gate School said, "The children were really enthused by the day at the gallery and already want to visit again!"
"Johny was an excellent guide and pitched the tour at just the right level. They also enjoyed the 'Enquiring Minds' workshop hosted by Paul – the Gallery's artist-in-residence. We are looking forward to working with the Gallery's educational team soon."
Tara Sheldon, Producer, Public Programmes (Children & Young People) is keen to encourage more schools to take up the opportunity to experience MK Gallery, its exhibitions and its expertise.
During Larry's exhibition, the pupils were warmly welcomed from seventeen different educational centres across Milton Keynes and beyond, including the eight primary schools and two universities – one of which was German.
MK Gallery was delighted to host their first hybrid gallery visit/cinema hire for schools. They successfully delivered ARTiculation, an initiative for young people to engage in, talk about the arts and develop their public speaking skills, to schools from across the South East Region.
MK Gallery is delighted to offer schools and under 26s free self-guided visits to our exhibitions.
It is such a fantastic opportunity for them to experience art close up, and it is exciting to see how curious the children are from the moment they walk into the building.
MK Gallery hopes that more schools take up the opportunity to bring their pupils to the gallery and enrich their existing learning programmes.
For more information email learning@mkgallery.org