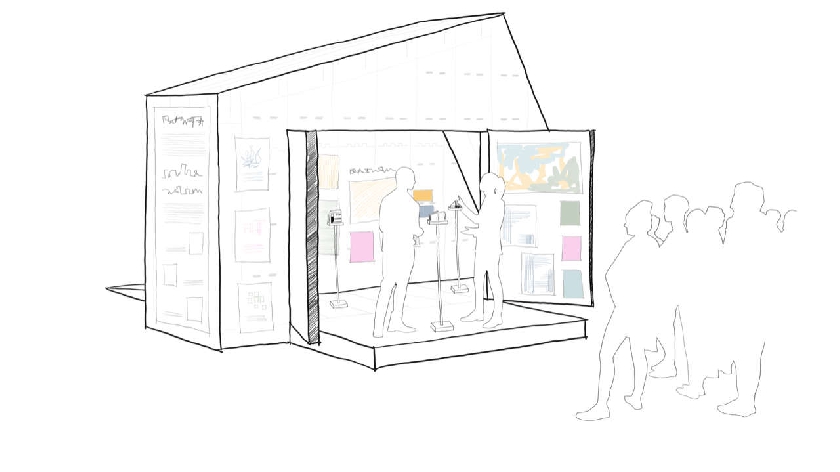 Commissioned by Milton Keynes City Council, Archive-opia brings audiences together for a series of taster activities inspired by the fascinating archive collections of Buckinghamshire County Archive, MK City Discovery Centre and The Living Archive.
Led by Architect and Archivist in Residence Alison Davies, in collaboration with Milton Keynes based creative agency Pooleyville, the programme features contributions from architects, invited specialists, archive partners and local communities with the overall aim of raising the profile of this internationally significant material.
Talking a playful, informal approach, Archive-opia will share both known and little-known aspects of MK's local heritage whilst opening a conversation around how Milton Keynes continues to develop its collections, and how we capture the important community stories of our growing city.
The Wikipavilion, a new pop-up wooden structure designed to support the Archive-opia project, will relocate to different locations in the city, as a venue for exhibitions and events.
The pavilion utilises the WikiHouse Skylark system: an ingenious and low-cost construction method, laser-cut from standard sheets of plywood and slotted together without mechanical fixings. As its name implies, the WikiHouse system is also 'open-source', designed to democratise housing design.
This October, it will be popping up in Kents Hill (14-15), Middleton Hall (18-23), and Central MK Library (26-29).
The Archive-opia programme includes:
How do you archive the contemporary city? A two-day interactive workshop bringing together international expertise with local communities led by Rotterdam based International New Towns Institute;
Architect led walking tours of Futureworld featuring contributions from the original architects and artists involved, as well as current residents
An artist led workshop reviving the 'Lost' Art Trail of Futureworld
A series of family and resident creative activities throughout its three-week tour, including an artist led programme in the central library for half term. And on Wednesday 26 from 10-4 MK City Discovery Centre will have its reenactors at the library for families to come and help build their future Milton Keynes.
Interpretations of unbuilt street furniture for Campbell Park designed by Andrew Mahaddie
Milton Keynes Overlap Pecha Kucha – a fast-paced evening of presentations by University of Nottingham Architecture students inspired by a poster discovered in the MK City Discovery Centre's collection.
To find out more about the free programme, click here.