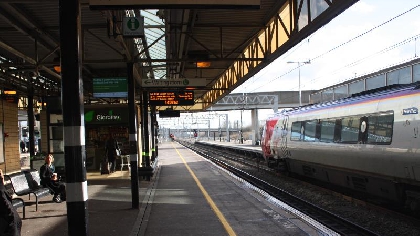 Police are appealing for witnesses after a report of a dangerous dog in Milton Keynes.
It follows an incident at Milton Keynes Central railway station at 9.15am on 26 February when a man's guide dog was attacked.
The guide dog's owner, a 74-year-old man who is registered blind, was coming out of the main doors at the station with his wife and guide dog, when it was attacked by a black and brown bull terrier.
The guide dog sustained several bites and required treatment from a vet.
The owner of the guide dog, David Adams, says, "It's always distressing if a dog is attacked by another dog. It's particularly so for a guide dog who is leading its owner because 1. she is responsible for her owner and cannot run away, 2. she is encompassed by her harness and lead and cannot defend herself, 3. there is a serious risk of infection from a stray dog, 4. the psychological impact can lead to insecurity which means she could not continue her work.
"As a guide dog, Zoey had two years intensive training and the cost of a guide dog over its life is in excess of £55,000. This can all be wasted by a random attack. It is for these reasons that an attack on a guide dog has been made a criminal offence, equivalent to a dog attacking a person.
"There was one particular gentleman we met on the platform who tried, via a staff member, to contact British transport police. He was very helpful and we would like for him to get in contact with us as soon as possible. Of course, any other witnesses to the attack which took place on Monday 26th February at 9.15am would also be very welcome."
Investigating officer PC Martin Connor, of the Investigation Hub at Milton Keynes, said: "The incident happened at a time when the railway station would have been busy and we would like any witnesses to contact us.
"We would be grateful if anyone with information could contact the Thames Valley Police non-emergency number on 101, quoting reference 43180061146."