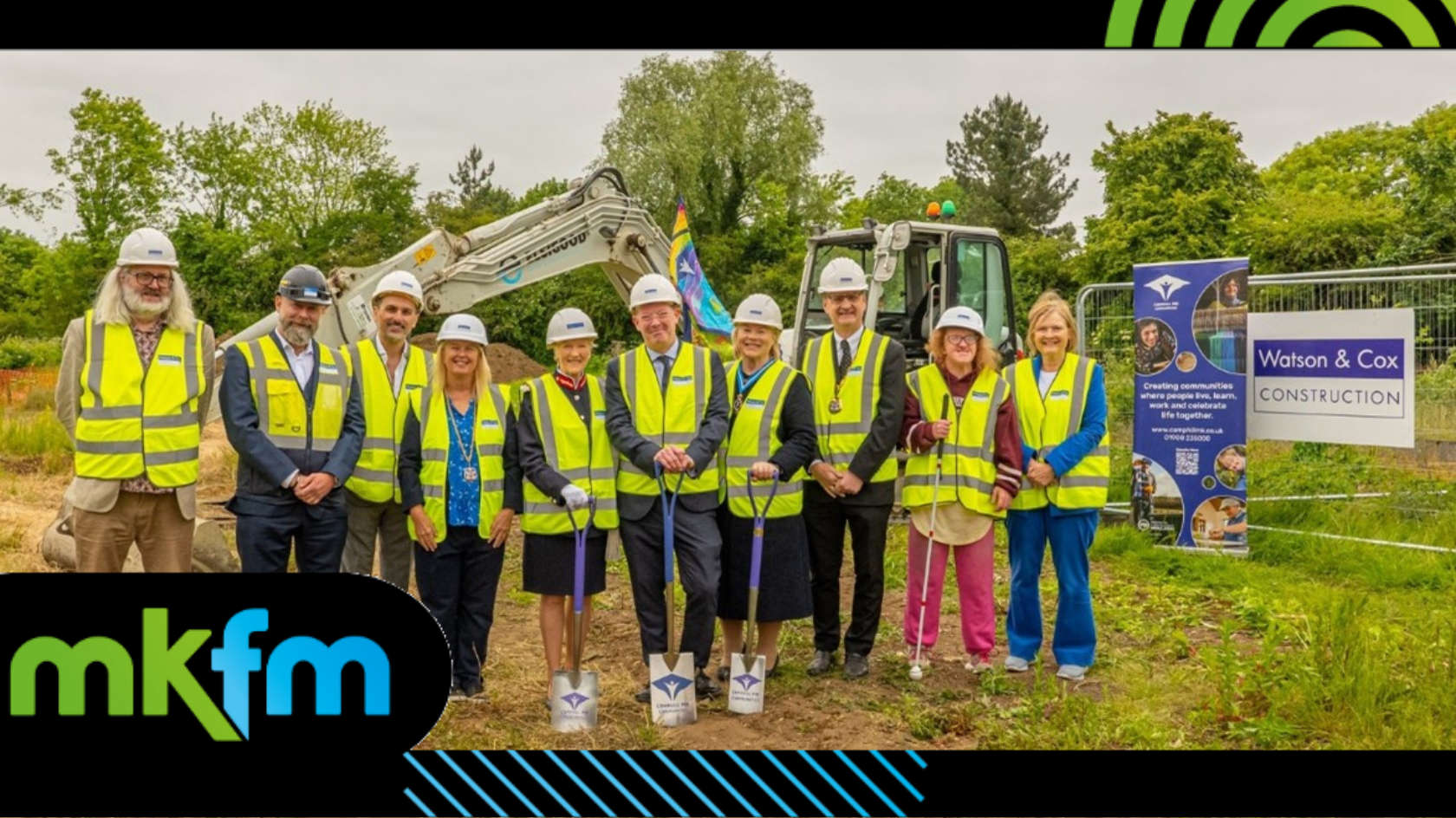 The Lord Lieutenant of Buckinghamshire, Countess Howe, Dame Ann Limb, High Sheriff of Buckinghamshire and Milton Keynes Major and Mayoress Mick and Mandy Legg marked the start of the capital expansion programme at Camphill MK. 
Camphill MK plans to double the number of individuals with disabilities they support with a massive £15m expansion plan.
The planning permission was granted just weeks before the 2020 Covid lockdown, and 1st June 2023 marked the breaking of the ground at the charity's second site in Pennyland.
Attended by their patron, BBC 4's Martha Kearney, key funders, partners and residents, a celebration was held marking the start of this ambitious build with their 1st new accessible house at Pennyland. This home will offer accessible accommodation for six adults with learning disabilities and autism, with another four houses planned on that site once funds are secured.
Countess Howe said, "I have absolutely loved my visits to Camphill MK this year and in the past; I have always been impressed by the warmth and sense of community that Camphill MK offers. But we are all ageing and will need additional support in the future, so this is a really exciting ground-breaking opportunity. Congratulations to all of those who have masterminded the project".
The charity's CEO, Tim Davies, shared with the guests the motivation behind the project, stating, "We are not building houses. We are building accessible, inclusive communities".
Our new, inclusive building project officially began!
Thanks to @HiSheriffBucks @MKComFoundation @LLBucks @mayor_mk @marthakearney for attending the cutting of the turf. It was a historical moment in MK! https://t.co/c7UBDFvNRL #CamphillMK #MiltonKeynes #LearningDisabilities pic.twitter.com/4IWBkqWQll

— Camphill MK Communities (@CamphillMK) June 5, 2023
The breaking of the ground was a total Camphill community effort, with the ceremonial spades gifted to their partner charity Tools for Self-Reliance MK, which the Camphill MK residents refurbished, painted and sharpened ready for the VIPs.
Buckinghamshire's new High Sheriff, Dame Ann, said, "I want to draw attention to the value of preciousness and uniqueness of every human being, which is embodied here in Camphill. One of my themes this year is sustainable communities. I am delighted to see a team with Tim (CEO), the architects and builders selected for their eco credentials, aiming to work towards the standards set by Passive Houses".
Local contractors Watson & Cox are the leading contractors bringing to life the plans created by architects Studio Ageli. They began their contract by building relationships with the Camphill MK community and hosted an on-site metal detection day with the residents before the foundations were dug. The building of the first house will take several months to complete, with residents planning to move in 2024.