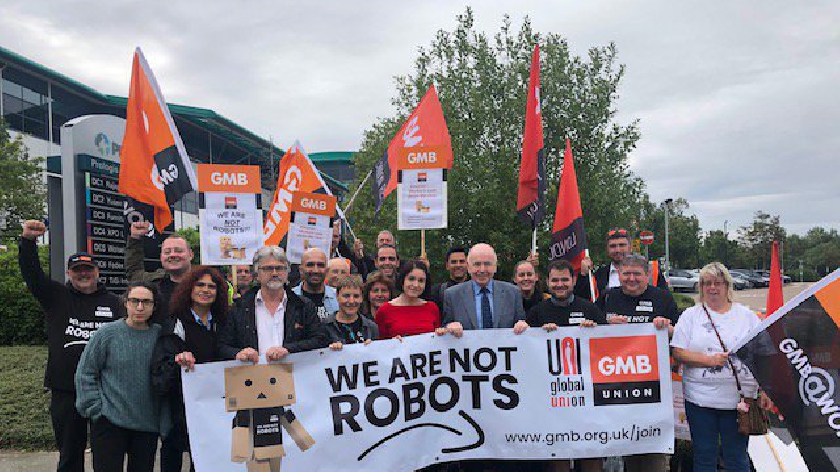 MP Jack Dromey supporting the GMB Union protest
Union workers at Milton Keynes' Amazon distribution warehouse were demonstrating this morning following allegations of poor working conditions.
The GMB Union organised this morning's protest - which took place from 6:30 - 8:30am. GMB research has revealed the dangerous conditions Amazon workers struggle under. Since 2015/16, more than 600 reports have been made from Amazon warehouses to the Health and Safety Executive (HSE). This includes workers using plastic bottles to urinate in instead of going to the toilet, and pregnant women have been forced to stand for hours on end, with some pregnant women being targeted for dismissal.
Amazon have refuted claims made by GMB, giving MKFM an exclusive tour around the centre; and were keen to showcase their working practices. You can see photos of the protests and of the distribution centre below. You can also hear extended versions of interviews which were broadcast on MKFM on 19th July.

Clip of live report from the picket line from MK Breakfast Show on 19/07/2019
Interview with GMB Regional Organiser, Steve Garelic
Interview with Jack Dromey MP, Shadow Pensions Minister
Interview with Joanna, an Area Manager at Milton Keynes' Distribution Centre
Interview with Julian Marval, Amazon employee from the Amazon Fulfilment Centre in Spain
Amazon declined the offer of an interview, but gave us this statement:
"Today, our well-paid, dedicated and highly-respected teams, are doing what they do every day – delivering for their customers in an environment that's fun, engaging and set-up to help them succeed. With industry-leading pay, comprehensive benefits, outstanding career opportunities and a safe, modern work environment, Amazon is the employer of choice for thousands of people across the UK.
"We encourage everyone to come and see what it's really like to work for Amazon by taking a tour of one of our UK fulfilment centres."