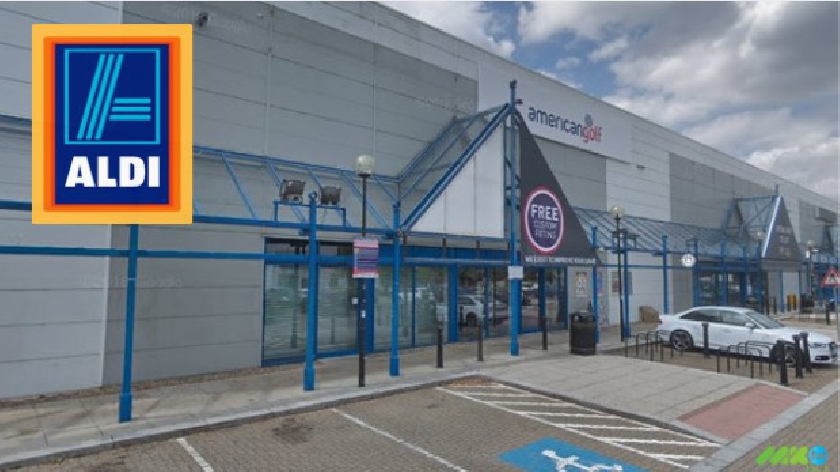 Aldi will be closing its Bradwell Common store and relocating to a city centre retail park, MKFM can reveal.
The upcoming closure of its long-standing Bradwell Common store will see the discount supermarket chain move less than one mile away to an even more central location, within The Place Retail Park.
Aldi will combine three units - C, D, and D1 - into one large unit, creating a supermarket far larger than the current Bradwell Common site.
American Golf, which previously possessed unit D, has agreed to surrender its lease and move over into a new unit created by dividing unit B into two.
This means that along the shopping stretch at The Place Retail Park there will soon be an Aldi, American Golf, Curry's PC World, and one empty unit ready for occupancy.
The plans to develop the vacant units into Aldi's new home have moved quickly, and construction work has already started.
Workers have been on-site this week stripping out the existing units, and MKFM can reveal that the brand new supermarket will be opening later on this year.
This means that by the end of 2021, when Aldi relocates to The Place Retail Park, there will be a vacant unit along Bradwell Common Boulevard.
Over the coming months, The Place Retail Park will see some major changes - all part of Aldi's big plans.
Aldi will completely refurbish its units, replace some of the tired cladding and change the layout of the existing car park.
Currently, there is only one entrance to the car park which generates traffic building up from the nearby mini-roundabout.
This has led to problems during lockdown, with dozens of cars flocking to Starbucks drive-thru resulting in congestion often leading up to the new Aldi site. It is expected that this will ease in the coming months as lockdown restrictions are lifted.
However, the new Aldi store is guaranteed to increase the traffic impact on the retail park, which in normal circumstances is relatively quiet.
The proposals state that there will be "40 additional movements [vehicles] in the AM peak and 52 movements [vehicles] in the PM peak".
Milton Keynes Council's Highways Department adds that the "critical movement" is the additional trips using Elder Gate to turn left on to Portway.
Aldi's proposals say that 17 trips along this stretch will be added during the PM peak, against a total flow of 505 vehicles (approx. 3.4%), which the Highways Team says is "considered acceptable".
To cope with the extra influx of cars set to descend on the retail park, Aldi will create two more car park entrances and change the layout of the already existing car park by adding in around 40 more spaces (including five electric charging bays).
Around the back of the large unit, there will also be an extension consisting of a service yard complete with even more parking spaces for staff.
Aldi has also been given planning permission to alter the existing drive-thru lane at Starbucks, add cycle sheds, and trolley bays.
A spokesperson for Aldi says that construction is "progressing well" but has not yet revealed the opening date.
They added: "Construction for our new store on The Place Retail Park in Milton Keynes is progressing well as we move towards opening later this year.
"After completion, our existing Bradwell Common store will close, and all colleagues will be given the opportunity to transfer to our new site, which will see a much bigger shopping space and car park, in turn creating further jobs in the community."