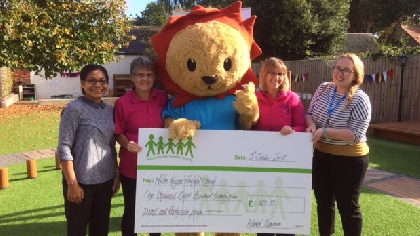 Stony Stratford's Adorable Nurseries have raised an incredible £1,827 for the children's wards at Milton Keynes University Hospital.
The nursery pulled out all the stops to help support the ward over the course of a year, holding activities that ranged from colour hunts, raffles and summer extravaganzas, to staff running the Milton Keynes Marathon.
Their fundraising activity culminated in a special presentation last week to Milton Keynes Hospital Charity representatives including charity mascot Leo the Lion.
Adorable Nurseries manager Sue Casebrook said: "The nursery feels extremely proud of the money we have raised, with the help and support of our staff, children and parents. It's a lovely way to teach the children how we can help those less fortunate than ourselves, but also knowing that it could also benefit any of our children should they have to visit the children's ward."
Head of fundraising at Milton Keynes Hospital Charity, Vanessa Holmes, said: "We are thrilled to have had the support of the local community and would like to take this opportunity to thank the nursery, the staff involved and parents for their kindness and generosity. They have all raised such a significant amount of money, which will directly impact both our young patients and their families at the hospital."
To find out more about the work of Milton Keynes Hospital Charity, please call: 01908 997560, e-mail: fundraising@mkuh.nhs.uk or find the charity on social media @mkhcharity.
Milton Keynes Hospital Charity raises funds to enhance the experience of thousands of patients at Milton Keynes University Hospital. People can support any ward or department.
For more information please contact Hayley Coomber on 01908 997560 or email fundraising@mkuh.nhs.uk.