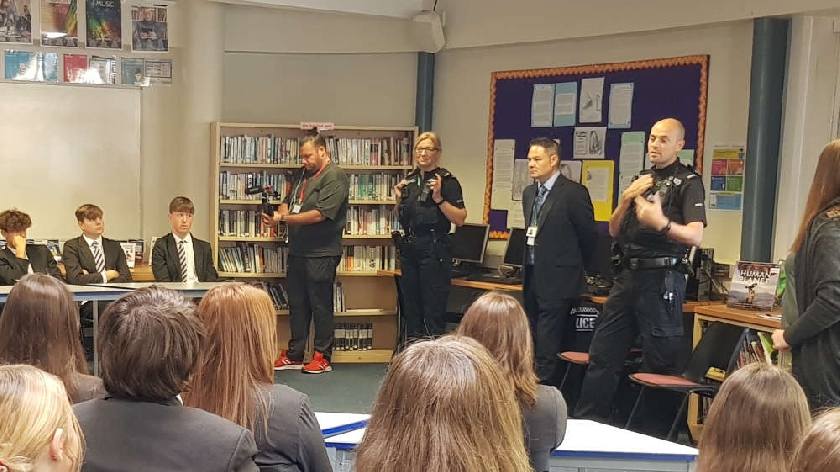 New resources are being made available to help support young people, keep them safe and prevent them being drawn into crime and violence.
Thames Valley Police and the Violence Reduction Unit has made a force-wide commitment to maintaining the provision of specially-trained schools officers.
18 Schools Officers currently operate across the TVP area, each one building close relationships with local schools.
The Officers make regular visits to schools to engage with young people and help educate them on issues such as drugs, violence, exploitation and abuse.
New processes have been developed for schools to receive support in disciplinary matters involving drugs or violence which seek to prevent exclusion and early criminalisation where appropriate, instead keeping a young person in education and to address their behaviour more positively.
The Violence Reduction Unit has developed a suite of resources and initiatives which are delivered by Thames Valley Police schools and neighbourhood officers. This includes items such as:
The PC Ben storybook – written for the youngest children in school, a lesson delivered by the local neighbourhood team to help explain the role of the police and build trust at the earliest ages
Mini Police – involving children in community events, providing a special uniform and equipment. Teaching young people responsibility and community service
New lesson plans and materials delivered in PSHE lessons covering topics including drugs and violence
A new deflection programme, seeking to support a school to prevent disciplinary issues escalating
Restorative justice training for Schools Officers to seek more positive outcomes and avoid early criminalisation
Training for police officers and staff in the impact of early childhood trauma and the effect it can have on behaviours
Tony Nelson, Principal of The Hazeley Academy Milton Keynes (part of the 5 Dimensions Trust), said: "We feel deeply fortunate to have the high quality relationship we do with the police in our area.
"By building close, positive connections with the police we help our students see police officers as fellow members of our community, working together to keep everyone safe.
"When schools, the police and the wider community work with each other to tackle the causes of crime it changes the overall dynamic, creating opportunities rather than constantly being forced to respond to preventable problems"
"When communities choose to work together they unlock remarkable opportunities to grow together."
Chief Superintendent Katy Barrow-Grint, of Thames Valley Police's Local Policing directorate, said: "Thames Valley Police is committed to working with young people, their parents and schools to give young people a positive start in life.
"We do this through the work of our specially-trained Schools Officers and also the ongoing engagement by our neighbourhood teams with their local schools.
"Together with the Violence Reduction Unit, we have a package of resources that our officers can use to educate on the difficult issues young people face and we work closely with schools to prevent young people being excluded or criminalised wherever appropriate. This helps them stay engaged in education and keeps them safe and away from crime."