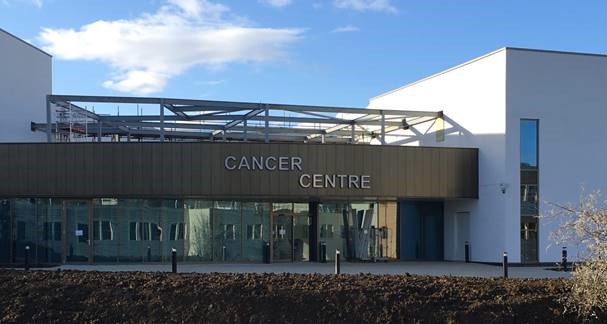 A landscape project for the cancer care gardens at Milton Keynes Hospital is almost complete thanks to a huge fundraising effort by local supporters, including the Chapman family as well as a task force of tradesman and hospital volunteers.
Aiden & Claire Chapman have smashed their fundraising target and continue to seek cash donations for the final soft landscaping features to attract wildlife to visit the cancer care gardens at Milton Keynes University Hospital.
The couple's appeal for cash has now raised over £13,000 from 360 supporters, smashing the £11,000 target set in October.
Amid a difficult time, Claire and her children and Chapmans Building Services Ltd have worked tirelessly to rally round support fundraising events.
In February, Aiden suffered a major heart attack and just as he had started to recover he became unwell in August. Several tests on and the family were told the devastating news that Aiden had Acute Myeloid Leukaemia (AML), a rare cancer of the blood cells.
Aiden remains an inpatient in an isolation room and is receiving cancer care treatment. He needs around 4-6 cycles of treatments at the centre. Covid-19 visitor restrictions are adding to the family's tough time allowing only video calls and on looking visits through an unopened windows.
On her just giving page Claire said: "The gardens will make such a difference in a patient's wellness and general state of mind, for their individual tough special journeys ahead. We are helping make it happen and turning it into reality."
The couple would like to put a further shout out for cash to complete further soft landscaping such as flowers and shrubs, soft scaping for a bird area, and new benches for outside the MacMillan Unit and a water feature for the Chemotherapy garden.
The hospital has thanked the Chapman family for their donations.
Head of Cancer Services at Milton Keynes University Hospital, Sally Burnie, said: "We're overwhelmed by so much support; this is bringing so much joy to the patients and staff and there's a buzz in the air talking about the gardens.
"To see Christmas trees was so lovely and it put a smile on many faces. The planters, benches and bird tables make the area look special and cared for; the love and attention that has gone into this is wonderful and I cannot thank you enough. You are all stars!"
The £15 million cancer centre opened in March 2020. The site features outpatients, procedure and specialist treatment rooms, a 24-bed inpatient ward, a chemotherapy suite and 11 clinic rooms.
There are quiet rooms and family visiting rooms, holistic support and group therapy wellbeing rooms and the Irene Crosswell Macmillan Wellbeing Lounge, all designed to support patients and make treatment as comfortable and caring as possible.
If you would like to support the project then visit Aiden & Claire's Milton Keynes Cancer Centre Appeal.
If you'd like to find out more about becoming a volunteer then visit www.mkhcharity.org.uk.