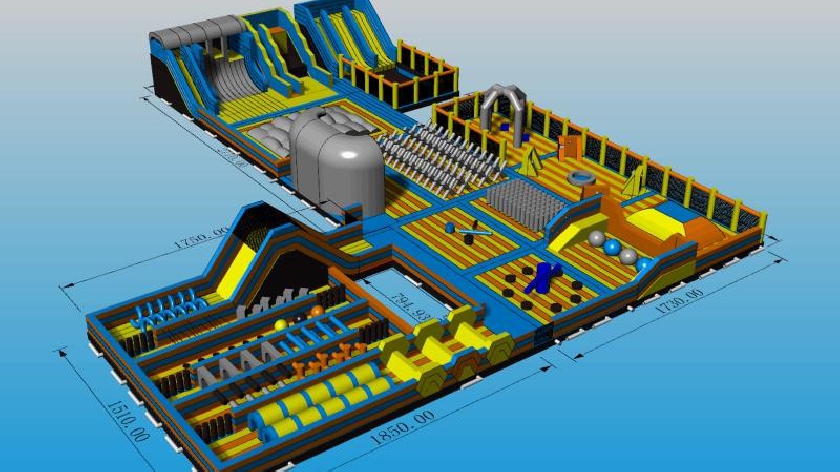 A new year is dawning and a new look to TopJump Trampoline parks is looming.
On January 27th, 2019 TopJump will close its doors and reopen 14 days later as TopJump Inflatable Park. Staying in the same location TopJump will become Europe's largest inflatable theme park.
The park will feature over 11 different attractions and promises to take the city by storm being the only inflatable park south of Birmingham and north of south London.
TopJump's Directors and senior management team started looking at new attractions to bring to Milton Keynes and after some extensive market research which went as far as the united states of America it was decided that an Inflatable Theme park was the attraction to bring to the people of Milton Keynes.
General Manager Matthew Gentle says, "Trampoline parks are great, but they are starting to phase out now and TopJump as a brand will continue to grow and provide a fun and safe place for the people to come and enjoy."
Early plans were released on social media earlier this month and has seen an outstanding response from the people of Milton Keynes.
As you can see from the design TopJump inflatable park will feature a large assault course so you can see if you are faster than your friends.
As well as running a dedicated toddler session, TopJump inflatable park will also have its own toddler inflatable area so you can come along at any age and enjoy what we have to offer.
Prices for this fantastic park will remain the same as before at £10pp when booked online and £12pp if you walk in with the toddler section priced at £7 per tot with the accompanying parent free of charge.
Places will be available to book on the website www.topjump.uk from 11am on Monday 7th January 2019 or you can give us a call on 01908 380508.
To celebrate the last days of TopJump Trampoline park, why not come and enjoy what TopJump have to offer one final time during the Christmas period. See the Christmas opening times below.
Operations Manager Keiren Yates says, "We know a lot of people in Milton Keynes enjoy coming to TopJump but we feel like a change was needed and what we are bringing to Milton Keynes promises to take the city by storm."
TopJump Trampoline parks Christmas opening times.
Friday 21st December 10:00 – 11:00 Top Tots
11:00 – 20:00 Open Jump
Saturday 22nd December Normal opening times
Sunday 23rd December Normal opening times
Monday 24th December 10:00 – 11:00 Top Tots
11:00 – 16:00 Open Jump
Tuesday 25th December Closed
Wednesday 26th December 12:00 – 16:00 Open jump
Thursday 27th Normal opening times
Friday 28th Normal opening times
Saturday 29th Normal opening times
Sunday 30th Normal opening times
Monday 31st 10:00 – 11:00 Top Tots
11:00 – 16:00 Open Jump
Tuesday 1st 11:00 – 16:00 Open Jump
Wednesday 2nd Normal opening times resume