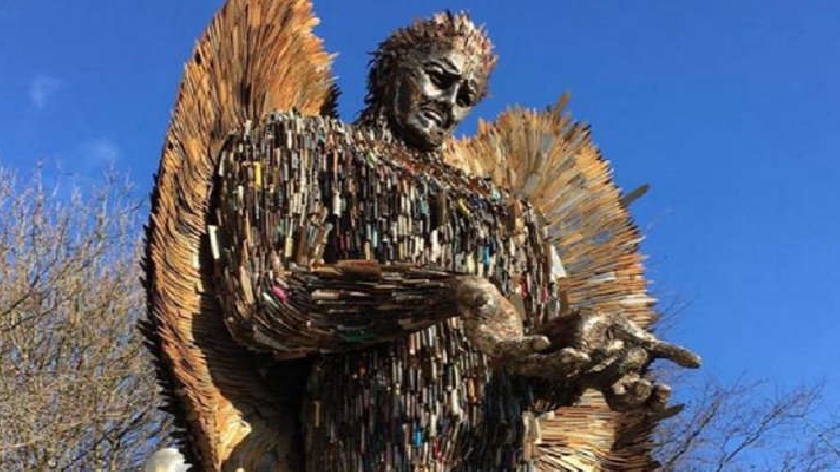 This December, a month of action will be taking place as the Knife Angel makes a visit to the city.
A month of action will be taking place across Milton Keynes this December, aiming to bring together schools and parents, voluntary sector organisations, places of worship, community groups, local venues and businesses to work alongside statutory partners for Milton Keynes.
The community are being encouraged to take a stand together against violence in all forms, including knife crime, domestic abuse, hate crime, bullying and other forms of violence and aggression.
To mark the month of action, Milton Keynes will host the National Monument Against Violence and Aggression, outside Stadium MK.
Also known as the 'Knife Angel', the monument is a huge 27ft sculpture, made from approximately 100,000 bladed weapons collected in knife amnesty bins during police operations across the country.
The Knife Angel was created in collaboration with all 43 police forces across the country, the Home Office, anti-violence groups and hundreds of families who have been affected by knife crime.
Both MK Dons Sport & Education Trust (SET) and Safety Centre Charity will look to provide workshops and engaging educational activities for schools and youth groups aged 12+.
From early December The Safety Centre, who are the region's leading Safety Education Charity and a key partner of the months of action project, will deliver 50 early knife crime intervention sessions for year 5 and 6 primary school students talking about the choices and consequences of carrying a weapon.
Alongside Safety Cente, MK Dons SET, will support by providing educational workshops providing opportunities for youth groups and students to become anti-violence ambassadors, becoming part of the legacy through social action.
Something which MK Dons SET CEO, Maralyn Smith noted of the importance: "MK Dons SET and Stadium MK are very pleased to support Thames Valley Police and the work around reducing violence within the community.
"MK Dons SET will be working with community organisations and schools to provide education and engagement workshops around the Knife Angel sculpture to encourage young people to become anti-violence ambassadors and spread the word about keeping safe."
Maya Joseph-Hussain CEO of the Safety Centre Charity said: "We are honoured and excited to be working with our partners to deliver essential life saving early intervention knife crime education sessions for primary schools across Milton Keynes.
"Our experienced education team create safe spaces to talk about complex, sensitive subjects in an age-appropriate way. These vital conversations can save lives and we look forward to delivering our education sessions in schools and at Stadium MK this December."
The work of MK Dons SET and Safety Centre dispel the myths around knife crime and safety in Milton Keynes whilst educating primary children and young people on the risks of carrying knives and its potential consequences.
Throughout the month of December, Stadium MK will host a number of workshops ran in conjunction with MK Dons SET and The Safety Centre.
From December 5th until December 14th, students will look to become Anti Violence ambassadors with dates still available for students to make the pledge and become an anti-violence ambassador.
READ MORE: Milton Keynes to take a stand against violence in month of action as Knife Angel comes to city