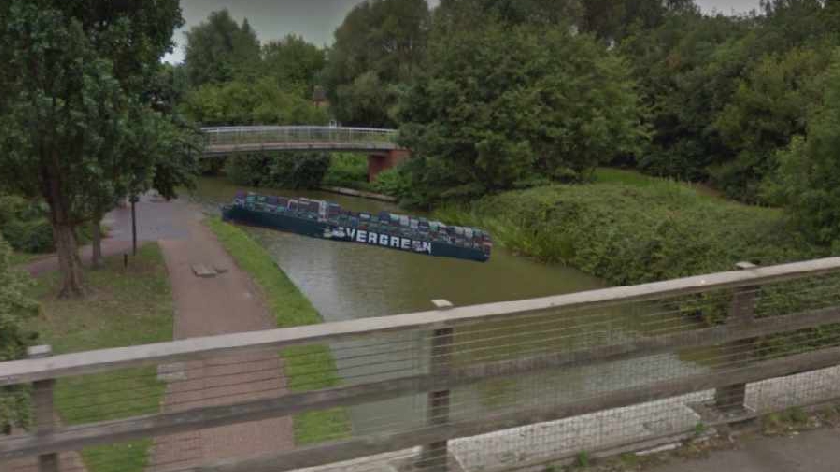 There has been a palaver this morning (1/4) as a barge transporting new wheelie bins to Milton Keynes has got stuck in the Grand Union Canal.
The barge, called Rap If Lo Lo, is bringing a shipment of 500 wheelie bins to the city as part of Milton Keynes Council's future wheelie bin rollout.
Rap If Lo Lo's underside has managed to get lodged diagonally across the canal by Woolstone after its crew turned the barge towards the bank to feed some baby ducklings.
It has been stuck in the Grand Union Canal, which is the equivalent of the M1 for canal boats, since 7 am this morning.
Early morning dog walkers were stunned to see Rap If Lo Lo stationary in the canal, and tried to help by pushing it back to the centre... but failed.
Dozens of officials have since arrived at the scene and are attempting to dislodge it.
A local transport spokesperson, Justin Thyme, said: "This is an unusual situation and I apologise to all residents in Milton Keynes and beyond for the inconvenience.
"We are currently in the process of shifting Rap If Lo Lo but no progress is being made, so it is likely that we may be here for at least a few days. At least the ducklings will have some company."
There is currently a back up of canal boats from Stoke Bruerne all the way up to Aylesbury.
Despite this, it seems people are more concerned about the wheelie bins on board - which will likely result in people having to use rubbish sacks for longer than expected.
Once the ship is eventually freed, the wheelie bins will have to go into quarantine.
A resident from Bletchley told MKFM: "No wonder the ship is so big since every house has to have four bins now!"
This is a breaking news story. MKFM will bring you the latest as we get it.