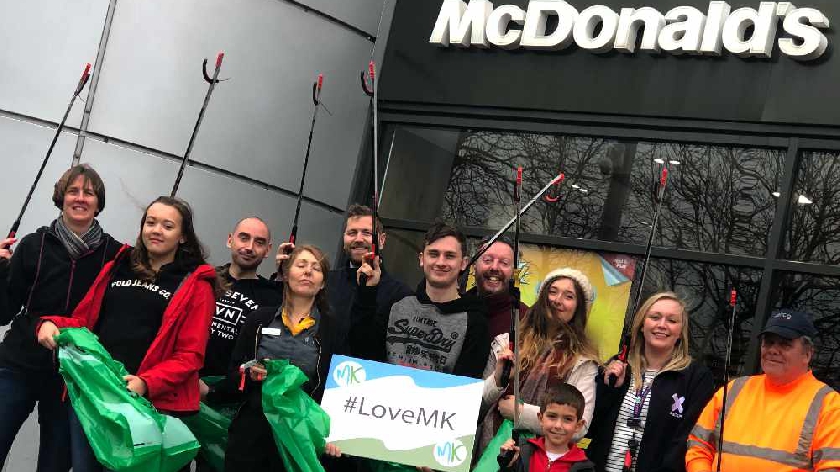 The seventh annual #LoveMK Day is being held this year on Thursday 2nd May.
Official tourism and information service Destination Milton Keynes is teaming up with local McDonald's franchise, Kaizen Restaurants, to help keep up the clean up in Milton Keynes.
Each year, the day not only promotes Milton Keynes as a leisure and business destination but it also harnesses the pride that many people have in their city, and what better way to do this than extend the existing 'Love Where You Live' campaign that Team Kaizen already runs regularly. Last year, the litter picking group took on estates near Westcroft and Kingston, along with Central Milton Keynes, with over 75 people taking part throughout the day.
Now, Team Kaizen and Destination MK are asking members of the public to vote on their Facebook page for which three areas within Milton Keynes are in need of a litter pick; then anyone can volunteer to help on the day.
The six areas shortlisted for this year's #LoveMK Day litter picks are:-
Central Milton Keynes
MK Hospital
Wolverton
Broughton and Brooklands
Fenny Stratford
Shenley Wood and Medbourne
Ken Tomkins, owner of local McDonald's franchise Kaizen Restaurants, said "We are really proud of the work we have done to improve the landscape in Milton Keynes through our litter picking events, and particularly how we brought the community together last year through the #LoveMK Day litter picks which the public voted for."
"Now, we are delighted to extend this even further with a series of litter picking events in new locations on #LoveMK Day, in partnership with Destination Milton Keynes. We hope local residents will rally to keep up the clean up in their local areas, and show how much they #LoveMK on Thursday 2 May."
But don't worry if you can't help on the day, you can still support #LoveMK Day by downloading the #LoveMK poster, or just get creative with the hashtag and photograph yourselves spreading the love.
On the day you can also follow @DestinationMK on Twitter for your chance to win prizes as they run '12 competitions in 12 hours' where you could win by just using the hashtag.
For more information on the work Destination Milton Keynes undertakes follow on Facebook search 'Destination Milton Keynes' or visit www.destinationmiltonkeynes.co.uk