Sport on MKFM with Progress Suzuki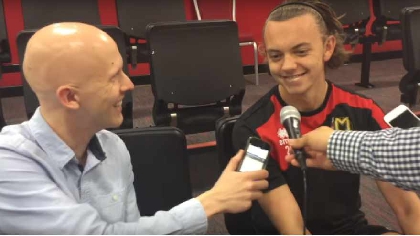 The weekend has comprehensive local sport coverage on MKFM thanks to Progress Suzuki.
Every Saturday, Mark Stevens brings you all the national and local sports coverage. Still playing all the hits, Mark will update you on Premier League goals as they go in. As well as bringing you the Premier League scores from across the country, Mark will have the latest on MK Dons. From pre-game line-ups all the way through to post-match interviews with the Dons manager from every MK Dons match, home and away. It's not just football though, Mark covers all the local sports teams including the ice hockey, rugby and cricket.
The sport doesn't stop there on MKFM. Every Sunday, from midday, Greg brings you a more in depth look at MK Dons with the help of the MK Citizen's Sports Editor, Toby Lock. Both Greg and Toby attend every MK Dons match, home, away, league and cup; there's nobody better to get all the analysis from, especially if you can't make the long trips away! The show includes interviews with both the Dons' manager as well as a different player each week. Greg and Toby look at everything that happens at stadium:MK, including the Under-23s, the ladies team and MK Dons Sport and Education Trust.
The sports coverage continues throughout the week, our local news every hour will have all the breaking news coming out of stadium:MK and Greg will give a more in depth look on everything MK Dons during MKFM Drive every day from 4pm. Last summer Greg had an exclusive interview with England Manager, Gareth Southgate, ahead of the upcoming 2018 FIFA World Cup.