Thoroughly Modern Millie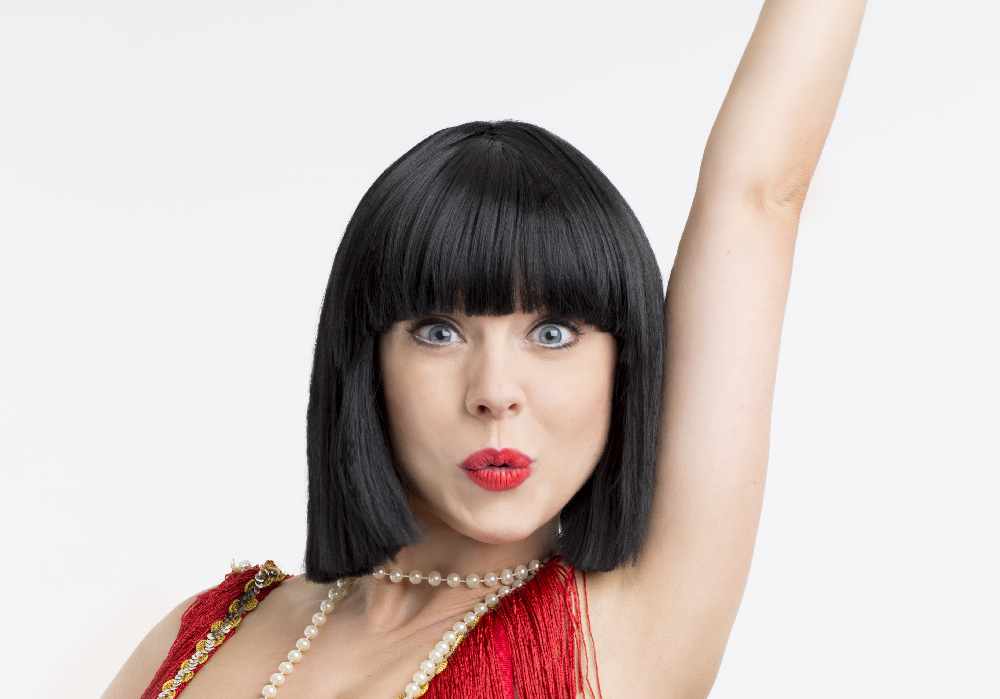 Nancy Stevens, MKFM's Arts Correspondent went to see Thoroughly Modern Millie at Milton Keynes Theatre last week, and discovered it to be a toe-tapping twenties delight.
Musicals are in my DNA, but I had never seen Thoroughly Modern Millie before, and therefore had no expectations - but it was an utter delight from start to finish. The film was conceived as a cinematic vehicle for Julie Andrews after the success of The Sound of Music in 1967.
The scene is set with a naïve Millie Dillmount, newly arrived from Kansas, arriving in 1920's New York set against the backdrop of prohibition. As a huge Strictly Come Dancing fan, I voted three times for Joanne Clifton (Millie) and her partner Ore Odube to win - which they did - and as befits a World Champion dancer, Joanne really sets the stage alight. I, like many others, was unaware that she could sing and act quite so brilliantly – and she is on stage throughout the show. What is even more awe-inspiring is that up to the week before Christmas, she was training for Strictly 12 hours a day. How she managed to do that, win the title, and take on this role with such aplomb is nothing short of fantastic. Her performance does not waver, and it is hard to believe that she is not a 'West End Wendy'.
Millie has high expectations of life in the Big Apple, and is determined to dispense with love, marry for money, bob her hair and raise her hemline, as was the wont of the moderns of that era. She is robbed within hours of her arrival, and brazenly, deliberately trips up a passer-by, Jimmy Smith, who attempts to rain on her parade and tells her to return to Kansas. Sam Barrett as Jimmy is simply perfect, underplaying this role and never overshadowing Millie.
However, ambitious Millie does not heed his advice, and checks in at the somewhat insalubrious, Hotel Priscilla run by the distinctly dodgy Mrs Meeks. Unbeknown to the aspiring actresses who stay there, Mrs Meeks is running a white-slave operation, and the unsuspecting girls are shipped off to Hong Kong never to be seen again. Michelle Collins portrays Mrs Meeks, but her character, a fake Chinese matriarch, is abrasive and grating and Collins is a touch too young for this role. Lesley Joseph took on the role in 2005 and was a good ten years older.
Bun Foo and Damian Buhagiar (Andy Yau and Ching Ho), are Mrs Meers' "henchmen" but in reality are forced to work for a pittance as they are desperate to bring their mother over from the Orient. They are brilliant performers but the overhead subtitling on the screens proved a distraction, which was a shame, and in no way a reflection on their performing ability.
Millie secures a job as a stenographer, and immediately sets her sights on her boss Mr Trevor Graydon, brilliantly played by Graham MacDuff who almost stole most of the scenes he was in. Alongside this, Jimmy, whose path has crossed with Millie, has fallen for her but she views him as "just a nice guy" with not a penny to rub together, and this is not part of her grand plan. Jimmy is, of course, a multi-millionaire and he is searching for a girl who is not a gold digger.
Millie's plans for her boss are thwarted by the arrival of her best friend Miss Dorothy Brown, (the very talented Katherine Glover). Millie, along with Miss Dorothy, is feted across town, partying with heiress Muzzy Van Hossmere (Jennifer Fitzpatrick) who is now a hugely successful singer). I loved her bluesy voice. On seeing Dorothy for the first time, Mr Graydon falls in love. The ensuing scene when she stands him up while he is drowning his sorrows is simply hilarious. Just the right amount of camp and showbiz pizzazz.
The dance sequences are splendid, and as far as I am concerned, you can never have too much tap, Charleston and jazz hands. Hats off to choreographer Racky Plews.
From a costume perspective we have come a long way since The House of Elliot, and been spoilt with Downton, and I had high expectations of this period of dress. I wasn't disappointed, although I am not sure that there was such a proliferation of sequins around that time, but it makes for great staging!
Finally, the scales drop from Millie's eyes, and she realises that Jimmy is the man for her. Together they foil the dastardly Mrs Meeks who turns out to be a failed actress recognised by Muzzy. Jimmy reveals who he really is, and in true showbiz style everyone lives happily every after.
I have to reiterate how much I loved this show, and Joanne Clifton is going to be a huge star. I can see her starring in Chicago as Roxie. If you love the Roaring Twenties, a large helping of Charleston, tap, and a delightful score, you are in for a treat.