Shirley Valentine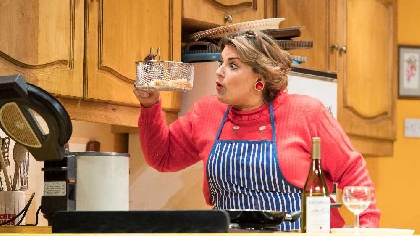 MKFM's Vicki McCarthy from the Evening Show, covers for Arts Correspondent, Nancy Stevens while she's on holiday and reviews Shirley Valentine at Milton Keynes Theatre.
Shirley Valentine - Willy Russell's touching story of a downtrodden Scouse housewife, who feels that she no longer has a purpose in life besides looking after her ungrateful husband and being an unpaid servant for her ignorant, grown-up kids.
Shirley spends her days home alone, with her only confidant… the kitchen wall and has now begun to question her very existence. So when a chance to travel to Greece comes up, Shirley throws caution to the wind, not only embarking on her first trip abroad, but also on a delightful journey of self-discovery.
Made famous 28 years ago on the big screen, many of us are familiar with the film adaptation of Shirley Valentine and also with Pauline Collins' and her magnificent portrayal of the lead character. The film saw Pauline star alongside a stellar supporting cast, including household names Joanna Lumley, Alison Steadman and Julia McKenzie. So many theatre-goers who have only seen the film may be surprised to learn that the original stage version is a one-woman show.
Step forward Jodie Prenger, first thrust into the spotlight in 2008, as she competed in Andrew Lloyd Webber's BBC show "I'd Do Anything", where she not only won the heart of the nation, but also the coveted part of Nancy in hit musical Oliver!
Since Oliver! Jodie has seen much success, from treading the boards in Spamalot, One Man, Two Guvnors and Calamity Jane, to regular appearances on TV and radio, as well as charity work for causes close to her heart.
So there I was - excited and confident in her experience and abilities - settling into my seat at MK Theatre, intrigued by how Jodie would tell the story up there all on her own and I very much looked forward to seeing how her monologue would engage the audience.
As a huge fan of the 1989 film, I knew most of the hilarious lines before they were spoken, but Jodie's delivery and energy ensured that laughs were still plentiful. Aside from the hilarity, Jodie's depiction of the story's vulnerable (but extremely loveable) heroine Shirley perfectly captured the poignancy of the underlying theme of loneliness and a life being wasted.
Despite the Scouse accent being dubious in places (I grew up in Liverpool and had the accent when I moved to MK!), Jodie made her version of Shirley as equally as endearing as Pauline Collins did almost three decades ago; you felt her isolation, you felt her frustration and you felt her joy as she began to rediscover a zest for life that was all but diminished after marrying Joe and becoming Shirley Bradshaw.
With just two acts and two simple sets, all eyes and ears were totally on Jodie, as she transported the audience back to the 1980s. She performed in a way that felt like it included the audience, making it feel that you were just listening to the woes of a good friend over a cup of tea, in their kitchen.
This is a play that has endured well over the years and I personally would define the film as a classic, so watching Jodie own the character, the script and audience's attention so beautifully was a delight to witness.
Shirley Valentine is now running at MK Theatre until April 1st. Ticket prices start at £15.00.