Matthew Bourne's, The Red Shoes at Milton Keynes Theatre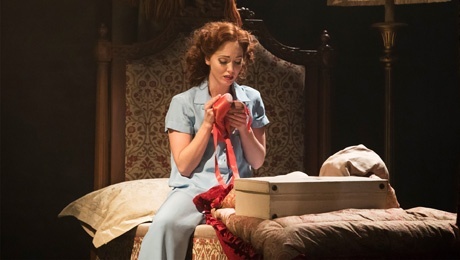 MKFM's Arts Correspondent, Nancy Stevens attended the world premiere of Matthew Bourne's, The Red Shoes at Milton Keynes Theatre.
I became a Matthew Bourne fan when I saw Edwards Scissorhands in 2015 here at Milton Keynes Theatre, and fell in love with his sense of theatrics, attention to detail and flair for the unusual. He is widely hailed, and justifiably so, as the UK's most popular choreographer and director. His body of work is vast, and not confined to ballet. He has choreographed Oliver, My Fair Lady and Mary Poppins to name a few. He is, course, most well-known for his production of The Car Man, which really set the ballet world alight.
The Red Shoes

is based on Hans Christian Andersen's fairy-tale, and is the story is of a gifted Victoria Page (played in the classic film by Moira Shearer) and danced exquisitely by a flame-haired Ashley Shaw. Shaw has been principal dancer in the past three Bourne productions. Vicky catches the eye of a Diaghilev-type ballet impresario, Lermontov (Sam Archer) whose dedication to his art will stop at nothing but perfection and borders on the obsessive. Page falls for composer Julian Craster, stunningly danced by Dominic North. Lemontov gives her an ultimatum - she must choose between her man or her love of dance. It was a privilege to watch Liam Mower (who played the original Billy Elliott), dance the part of Ivan Boleslawsky with a laconic ease and grace.
The eponymous Red Shoes have a life of their own and once worn, the wearer has no choice but to dance wherever the shoes take her. It is a ballet within a ballet, and often the lines of reality are blurred. What is fact and what is fiction?
The costuming was spectacular and authentic, and transported one back to the glamorous forties, of Dior's 'New Look', when smoking was considered elegant, and red lipstick was de rigueur. I loved the beach scene in Monte Carlo, which reminded me, ironically, of the 'Lay all your love on me', beach scene from Mamma Mia! There was clever collaboration of other dance styles, including the Charleston, tango and waltz.
I was transfixed throughout and usually through a traditional ballet, I tend to clock watch after the interval, but Bourne's interpretation is unique and I did not want it to end. My 16-year-old son, studying dance at college at which ballet is the main genre, accompanied me. He was utterly mesmerised, too.
I am no balletomane and loved ballet as a little girl but suffered the ignominy of being asked to leave my ballet class aged five when it was clear that I was never going to be the next Margot or Darcey. However, I still watch with envy when I see ballerinas with their exquisite pale skin and slim limbs pirouetting on stage, and marvel at the sheer athleticism of the male dancers when

jeté-ing

or lifting dancers into the air with the utmost east. It truly is a magical world and I am glad that Matthew Bourne has allowed us a glimpse of it.
I cannot praise The Red Shoes highly enough, and Matthew really is the Bourne Supreme,
The Red Shoes runs until Saturday 18 February at Milton Keynes Theatre.