Mamma Mia!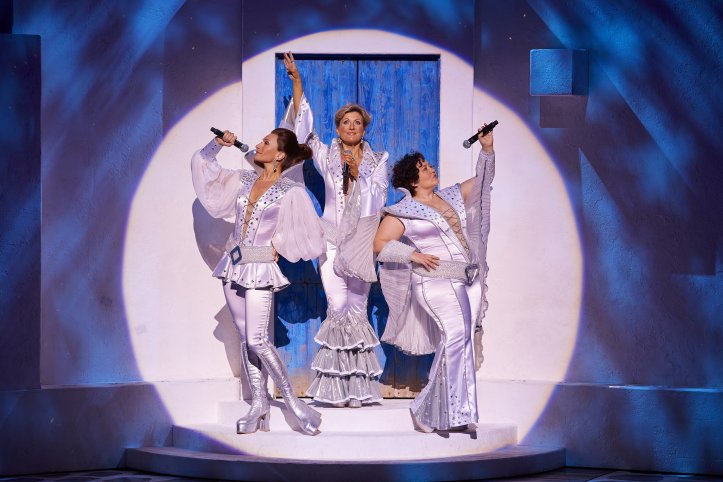 Uber-ABBA and Mamma Mia! fan, MKFM's Arts Correspondent Nancy Stevens went to see Mamma Mia! at Milton Keynes Theatre.
Mamma Mia! How can I resist you? I cannot, and I did not. It was ABBA-solutely fabulous!
MAMMA MIA! Set on a Greek island circa 1990s, with Sophie Sheridan preparing to marry Sky. Her mother, Donna, not overly enamoured, thinks that at 20, Sophie is too young. However, Donna harbours a secret - Sophie's paternity may be one of three ex-lovers. Sophie has discovered Donna's diary and invited all three potential papas to her wedding. Total chaos then ensues…
I had the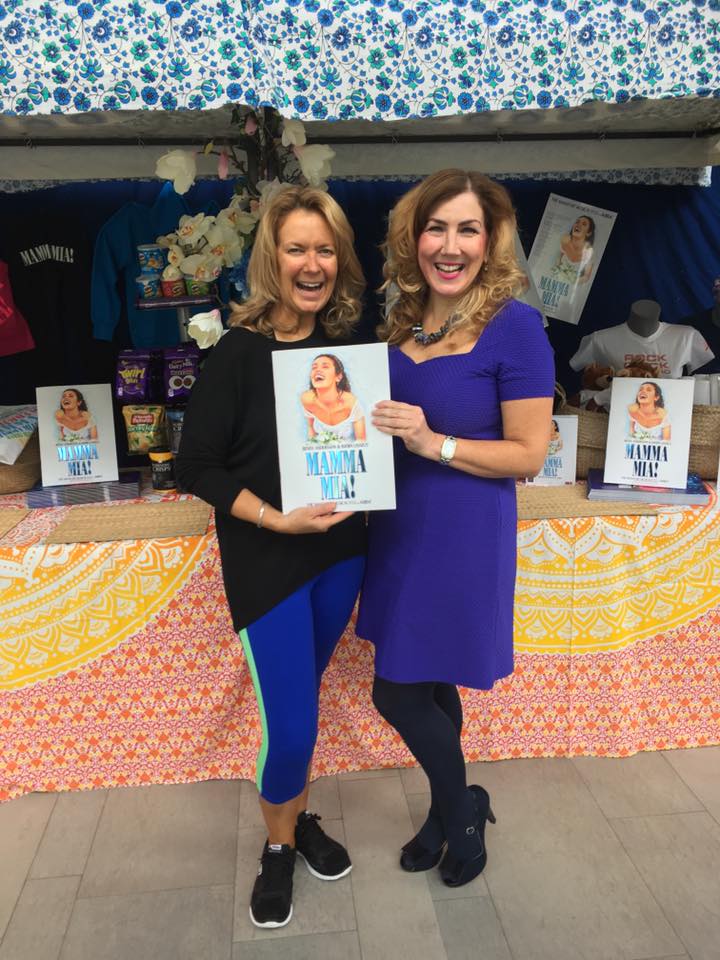 privilege of interviewing the delightful Helen Hobson (Donna) before the show, and this is her second time playing Donna (the first being 2004). I asked if Meryl Streep's portrayal in the film version had affected her performance, and she said, 'that this was more about her relationship with The Dynamos who naturally had had a cast change, and that the dynamic had changed,' but she loves this role and feels that she makes it her own. Having seen her play Donna originally pre-movie and now, I would agree. She has matured in the role and brings such warmth and vitality to a part that could be construed as bitter and cynical. Donna's rendition of Money, Money, Money made it believable that she had really struggled for 20 years with a child, a leaky roof and a crippling mortgage. Slipping through my fingers, tells of her sorrow as Sophie leaves home to get married, and there was not a dry eye in the house.
I have history with Mamma Mia! Not only have I seen it seven times, but my claim to fame is that I have performed in a summarised version at the Prince of Wales Theatre in 2007. This was indeed one of the best experiences of my life, and I know every action, every nuance, every word and every movement of the show. So no pressure there!
The show is an ABBA fan's delight, with the unmistakable sounds of those instantly recognisable ABBA melodies, with music and lyrics by Benny Andersson and Björn Ulvaeus. Everyone thinks ABBA is easy to sing - it is, in fact, one of the hardest sounds to replicate, such are the intricacies of the harmonies.
I also was fortunate enough to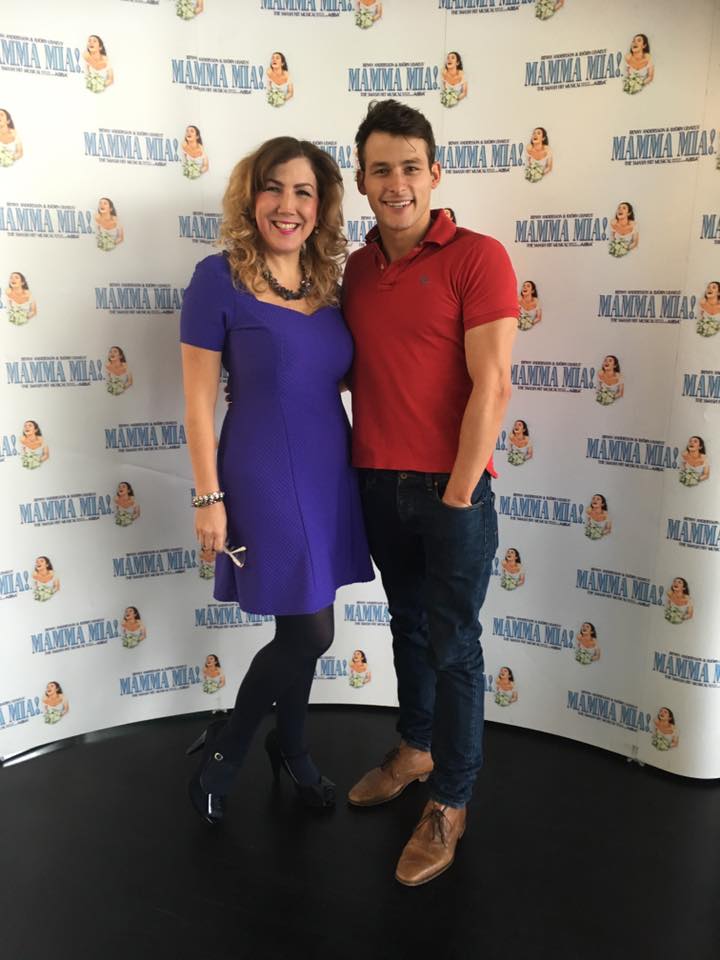 interview Phillip Ryan who plays Sky, Sophie's fiancé. He too, brings a uniqueness to the role. Ryan stated, "At audition the producers asked me to audition in RP which I was happy to do, but I offered to speak in my native Scots accent to offer something different, and they loved it." I had asked him, too, if he felt overwhelmed or emasculated in any way as strong female characters dominate the show and having seen him perform, it is a resounding "no"! He more than makes this role his own.
I loved the fragility of Sophie. The doe-eyed Lucy May Barker with her sweet soprano, made a lovely Sophie.
As with every production of the show, my favourite characters (as in the film too) are Tanya, the man-eating, thrice-married temptress who exudes sex appeal from every pore, and Emma Clifford, is no exception. If I am honest, this is the part I would love to play. Does your mother know? is just hilarious, when she pretends to ignore the over-amorous advances of the much younger Pepper, the astonishing, show-stealing Louis Stockil. His sublime dance skills, cockiness, swagger, and comic timing will undoubtedly make him a star of the future.
I also adored Gillian Hardie as Rosie, (played by Julie Walters in the film). Quite honestly, Hardie was just as funny, and her rendition of Take a chance on me while trying to seduce intrepid traveller, Harry Bright (Jamie Hogarth), had me in paroxysms of laughter.
The role of Bill (Chris Hollis) is the most likeable of the three male characters as the easy-going Aussie with a fear of commitment. Harry Bright (Jamie Hogarth) plays the buttoned-up ex-public schoolboy with the right amount of understatement and, if I closed my eyes for a second, could hear the strangulated upper- class vowels of Colin Firth. Sam Carmichael, Donna's lost love (Jon Boydon) is not an obvious choice for a leading man, but every time he sang, I was relieved that I did not have to listen to Pierce Brosnan's not terribly convincing voice. He was a more gentle Sam than I have seen before, but no less effective, and the chemistry between him and Donna was utterly believable. Sometimes, less is more.
The hits simply kept coming, and the energy levels did not ever wane. My favourite scene and song is Lay all your love on me. Try to imagine, if you will, a stag do with hunky chaps in scuba gear - dancing. Camp just does not quite cover it! There are too many songs to mention, but here are some of my absolute favourites: Mamma Mia, Super Trouper, Voulez-Vous, and, of course, S.O.S.
The costumes are true to the original show and every detail is faithfully replicated.
We have much to be grateful to the creator Judy Craymer's tenacity for spending nearly ten years trying to persuade the two beardy blokes from ABBA to make a musical. With Catherine Johnson's writing skills – they formed the Mamma Mia dream team, and have made more than 60 million people in more than 50 countries worldwide, thankful for the music.
There is nothing not to love about this utterly bright, optimistic and very colourful show, and if I could, I would turn right around on my platform-heeled boots and watch it for the eighth time. I am happy to say that Mamma Mia! firmly remains my favourite modern musical.
Be a Super Trouper - there will be no taking any chances as this is the most fun you will have in 150 minutes. It will be worth the Money, Money, Money, and YOU can dance, you can jive and YOU will have the time of YOUR life!
Just go!
Mamma Mia! is on until 20 May at Milton Keynes Theatre