Dick Whittington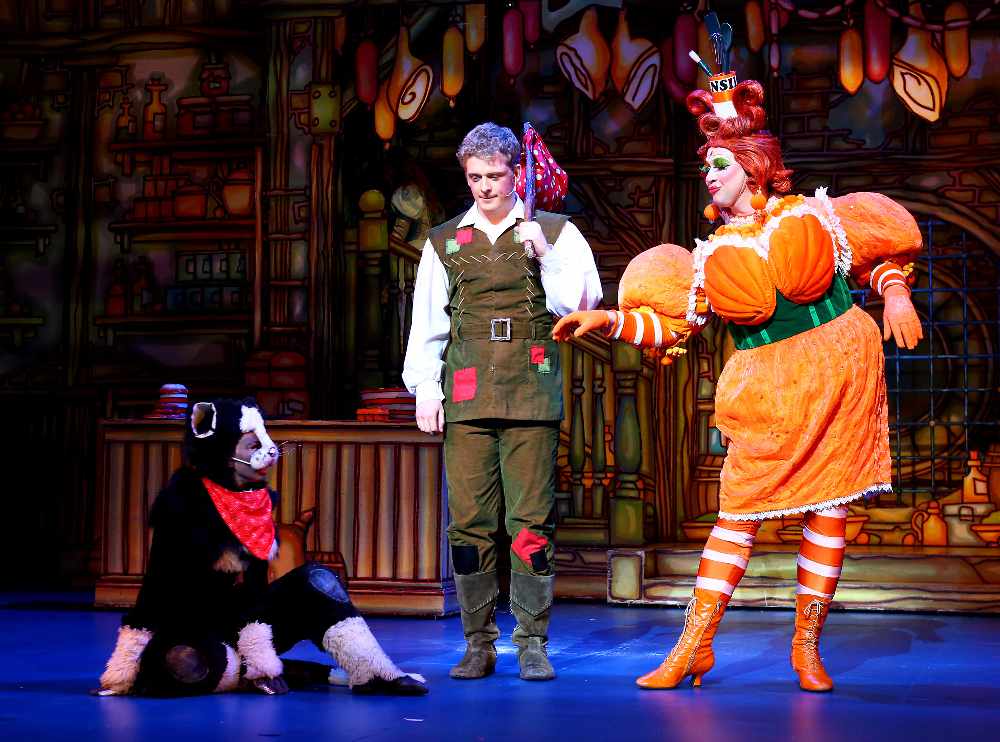 Nancy Stevens, MKFM's Arts Correspondent attended with high expectations after last Christmas's fantastic panto, Aladdin.
Panto Press night is always a special affair, where we the press, are plied with mulled wine and mince pies, and it's a celebration of the end of year after writing many reviews for all the wonderful shows that we are in the hugely privileged position to see.
A few months ago, I was fortunate enough to interview the main cast - Samantha Womack, Stacey Solomon, Kev Orkian, Kevin Brewster, Chris Jenkins and Hannah Ponting - and I was excited to see what this talented crew had to offer...
They did not disappoint...
The show began with Brian Blessed appearing on a huge screen promoting FFE and giving a potted history of pantomime. Then without further ado, the show opened with Stacey Solomon as Fairy Bowbells arriving on a silver swing in the sparkliest sequinned dress as, of course, befits a fairy.
First, let's get rid of the showbiz elephant in the room. Ms Solomon has been pilloried by the media for allegedly going on stage with her script. This happened only once at her very first performance at a matinee schools' performance as she'd just flown in from her stint in "I'm a Celeb", from Australia, but after that show, was word perfect. By own her admission, when we spoke, she made it clear that she wasn't an actress, but was just incredibly grateful for all the opportunities afforded to her. Stacey was gracious, self-deprecating and utterly unspoilt. Her voice has a powerful, soul-like quality, and her mega-watt smile lit up the stage. A few more weeks on stage will bolster her confidence, and "Scriptgate" will be a distant memory.
Dick Whittington is set in London and our hero (Chris Jenkins) is accompanied by his cat, Tommy (a very agile Sophie Hart). Dick has come to seek fame and fortune in the mistaken belief that the streets of London would be paved with gold. Chris plays Dick in an understated fashion, but is not remotely soppy, as panto heroes tend to be. This boy can sing, dance and act and I very much enjoyed his performance. He falls for Alice Fitzwarren (Hannah Ponting) who made her panto debut. She has a remarkable singing voice and isn't your archetypal simpering heroine. As they are both fair-haired they do look more like brother and sister but were more than believable as a couple. The harmonising in their duets was spine-tingling, a perfect blend of voices.
Rats are overrunning London, and Dick offers his cat to alleviate the problem, but is thwarted at every turn by his arch-nemesis, the evil Queen Rat played by the sublime Samantha Womack. Sam is so much more than her East Enders character, and has an acting pedigree stretching back 25 years. Sam is old-school musical theatre, trained in the discipline of singing, dancing and acting. She has a great vocal range and has such on-stage charisma, it is hard to tear your eyes away from her. She simply has that certain je ne sais quoi.
The unmistakable star of the show is, of course, Kev Orkian who plays Idle Jack. Kev has the audience eating out of the palm of his hand, such is his deft humour and genius with physical comedy. His foil is Sarah the Cook (Kevin Brewis) who is just the perfect panto dame. Being the dame is probably the hardest role in panto, and the scene between him and Jack involving a giant sausage had us howling with laughter - (so much so that the little girl in front of me asked "Mummy why is that lady laughing so much?") There were more innuendos and lewd comments than in the previous panto, which, of course, totally eluded the children. This is the whole point of panto - it is for the whole family.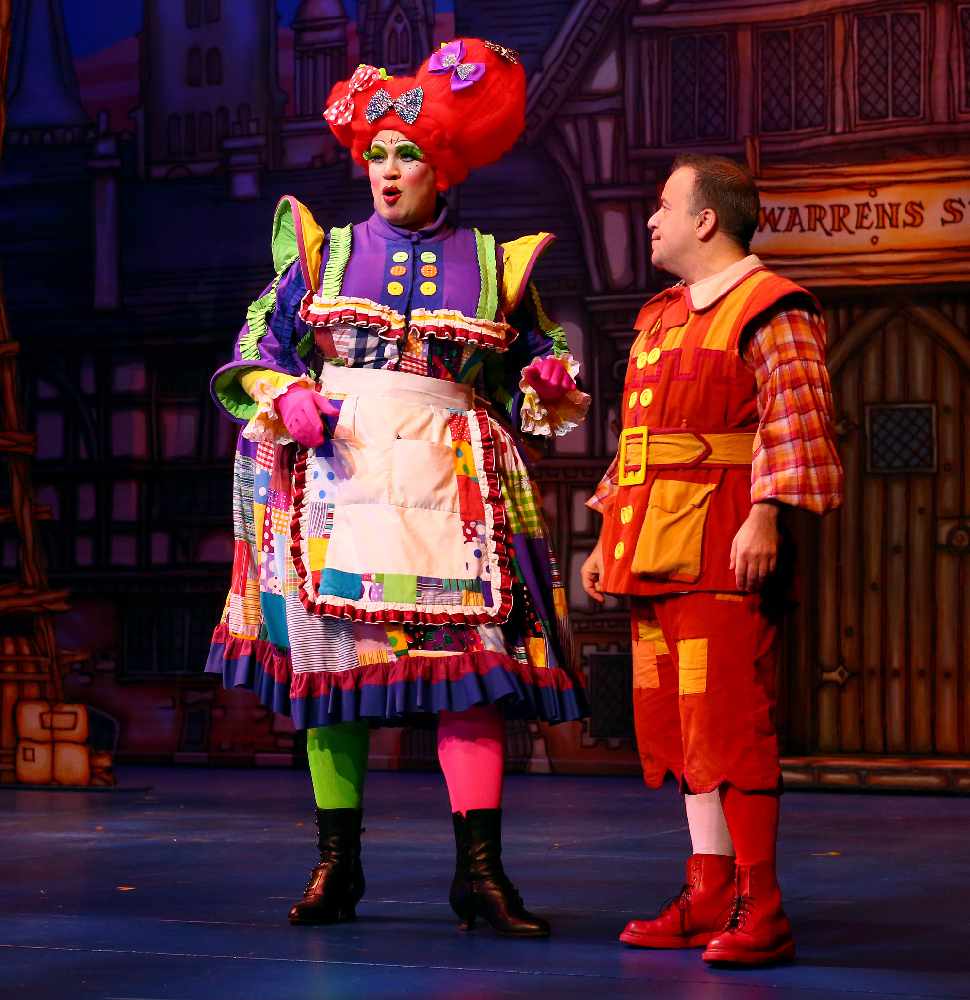 While a big scene change is taking place, there is the obligatory opportunity for the youngsters to have their moment on stage with Kev. Kev is a seasoned pro at this, and the cuteness factor was off the scale with the toddlers singing "Old Macdonald" and then being presented with a goodie bag.
I was delighted to see Marc Pickering return to the stage after his successful stint in Aladdin last Christmas, and he is a man of many talents and took on two roles, one as Alderman Fitzwarren, and the other was absolutely priceless as the campest Sultan ever.
Instead of the traditional swords at dawn to battle it out between good and evil, a contemporary spin was introduced in the form of a lip sync battle between Dick and Queen Rat. This routine was utter genius and had the audience in paroxysms of laughter. I particularly loved Sam's version of "Wuthering Heights", proving that she is a brilliant comic actress too.
The costumes were beautifully designed, and Kevin's (Sarah) outfits, particularly the one of her as a ship in full sail, were a veritable feast for the eyes The sets were, as always with FFE, lavish and detailed.
The songs were bang up to date, and there honestly wasn't one weak link in the entire cast. A tighter panto cast I haven't seen in years. The local references to Milton Keynes always raise a laugh and make it truly topical.
The 3D underwater show raised "oohs and aahs" from the entire audience, and this scene was in keeping with the sunken ship and totally contextual. Often in panto, random acts are put just for the sake of it and leave audiences pondering the significance.
There simply aren't enough superlatives to describe this panto, and it's not very often I would award a show a full five stars but Dick Whittington totally deserves them.
Happy Christmas one and all!