Café Ole - Wolverton
Awarded – Silver in MK's Best Breakfast
Café Olé - Wolverton Park Road, 60, Triangle Building, Milton Keynes, MK12 5FJ
Café Ole is a family run restaurant serving authentic Spanish food situated on Wolverton Park road, the old residence of "Buskers", in the historical Triangle building. There is ample parking for customers and as soon as you arrive to the open plan dining of Café Ole you are transported to the sunshine of Spain!
The front of the restaurant is mostly glass, letting in as much natural light as possible. There are tables and chairs just outside (even in winter) to encourage al fresco dining. The kitchen is busy and open plan for guests to watch the chef's creations and sunny Spanish songs play throughout the restaurant. The welcome from staff was warm and knowledgeable as they suggested different dishes to try.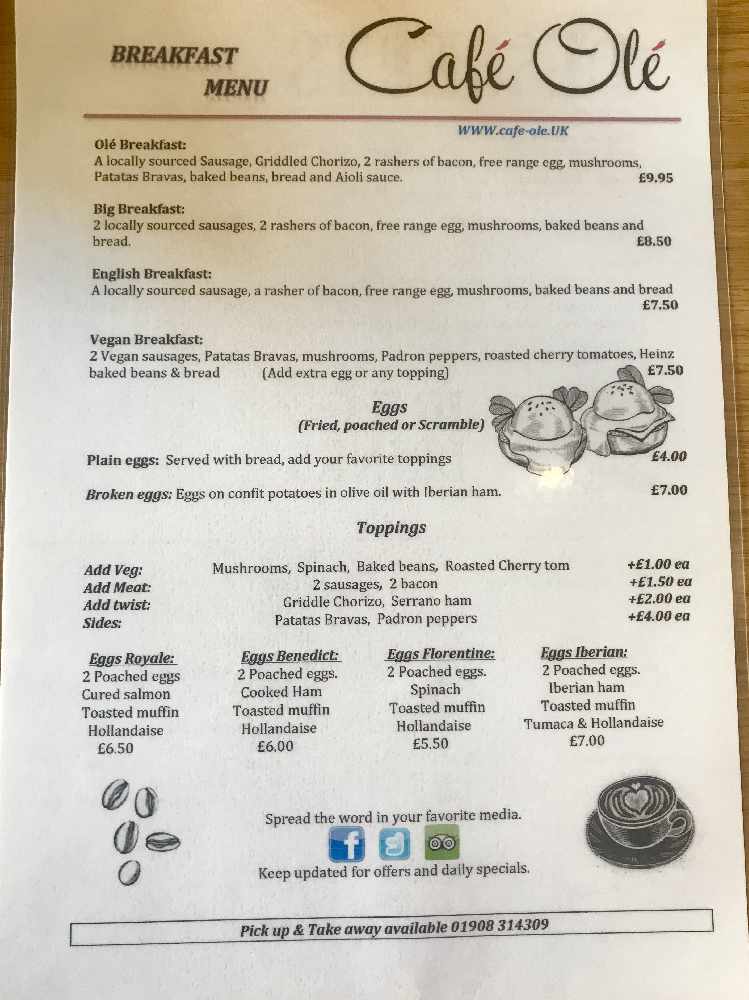 Upon recommendation, we went for their Ole Breakfast and were intrigued to taste a Spanish spin on a more traditional fry up. The breakfast was served with a locally sourced sausage, griddled chorizo, bacon, free range egg, mushrooms, beans, bread and Aioli sauce and the hero of the breaky, Patatas Bravas! – we even ordered an extra portion!
There was a large array of teas and coffees to choose from and even breakfast desserts available – we obliged and tried their rice pudding crème brulee, which was delicioso!
If you're looking for… a bit of sunshine served with every breakfast.
Opening times: Tues - Sat 9am – 3pm / Sun 10am – 5pm
Telephone number: 01908 314309
Website: http://cafe-ole.uk/