Billy Elliot pirouettes into MK
MKFM's Arts Correspondent Nancy Stevens was at Press Night for Billy Elliot.
Billy Elliot pirouettes into Milton Keynes Theatre until 17 June.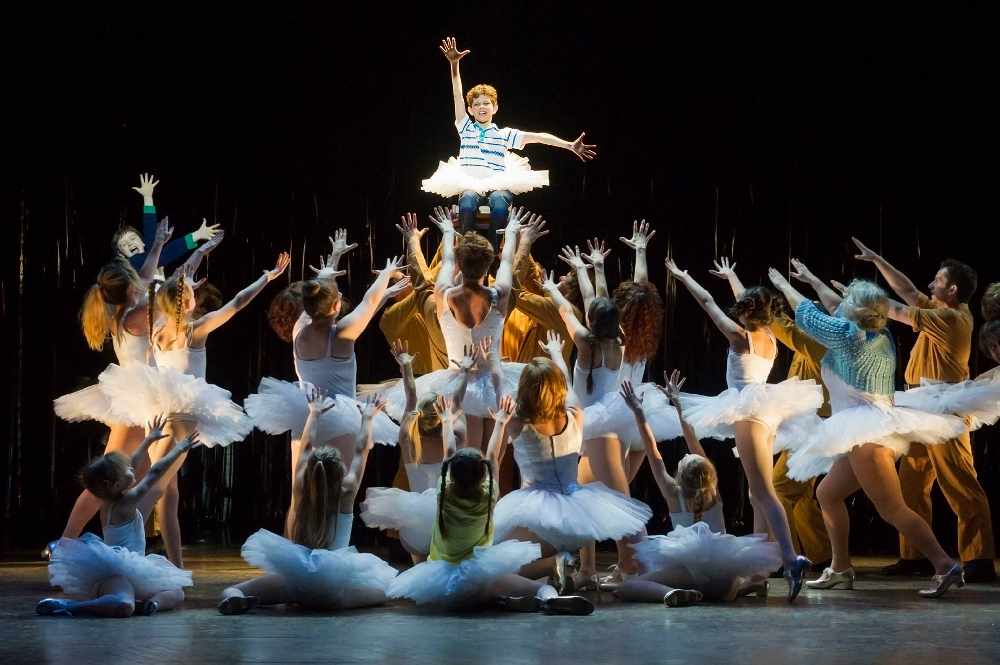 Based the on the hugely successful but small-budget 2000 film, written by Lee Hall and directed by Stephen Daldry, with a timeless score by Elton John, Billy Elliot The Musical celebrates 11 extraordinary years in the West End, culminating in finishing its UK tour at Milton Keynes Theatre. In essence, it is a story about overcoming prejudice, class, political divide and sexual orientation. It is both thought provoking and witty, and leaves you rooting for the underdog with the overwhelming message that, 'it's good to be different'.
I was privileged to see it in its relative infancy, nine years ago, and it is the show that inspired my son to dance. The film made a star of Jamie Bell, and in the original musical, Liam Mower.
Set in County Durham against the backdrop of the 1984/85 miners' strike, Billy Elliot is the inspirational tale of a 12-year-old boy who dares to be different. Things are tough at home: Billy's beloved mother has died three years earlier; his grandmother to whom he is very close, shows early signs of dementia; his brother, Tony, a union bully, is disenfranchised; his father is drinking too much, and the family, like most miners, is bitter and angry towards the government - particularly Maggie Thatcher and Michael Heseltine who they saw as selling them out.
Billy reluctantly attends boxing classes, and quite by accident stumbles upon a ballet class run by the acerbic, chain-smoking ballet teacher, Mrs Wilkinson (played so marvellously in the film by Julie Walters). Her zest for teaching is revived once she spots Billy's potential, particularly as her own class of dancers are so inept.
Not only does Billy encounter working-class prejudice of anything 'arty', so prevalent at that time, but his father is worried it will turn him gay, all of which threatens to overwhelm him. He is almost forced to give up before he even starts. The performance of Billy was played by Haydn May. As it is such an exacting and physically demanding part, the role of Billy has to rotate among four boys. Haydn is unique, and not only does he have to master a very convincing Geordie accent (he is from the South West) but also gymnastics, ballet and tap. (My son who has been doing ballet and tap for a year, was full of admiration, as these have to be the most difficult genres of dance to master.) I loved the chemistry between him and Mrs Wilkinson, the multi-talented Anna-Jane Casey. She assumes the maternal role that is so lacking in Billy's life.
The standout performance is without doubt, Henry Farmer as Michael, Billy's cross-dressing not-so-in-the-closet friend. He really is a star turn, and the scene-stealer was the duet with Billy and Michael and the dancing dresses! (You have to see it!).
Another great performance was by Daniel Page as Mr Braithwaite, who comes out from behind the piano to do a show-stopping routine. Built like the proverbial, he proves to be extremely nimble, incredibly light on his feet, humorous, a tremendous dancer, and clearly a frustrated hoofer.
Despite the frivolity, the theme is serious as the miners' strike continues, with disenchantment seeping through the core of every mining town in the north-east. Police and strikers wage a constant battle from which there were to be no victors. Being a scab, (crossing the picket line) was deemed even worse than the law enforcers.
Mrs Wilkinson has put Billy forward for an audition for the 'Royal Bally' (Geordie pronunciation) and despite huge opposition from his family, Billy's father, an excellent Martin Walsh capitulates. He accompanies Billy to London. However, the visit is not an unmitigated success as Billy fights with one of the auditionees, and is severely rebuked by the board. But when they ask him what it feels like to dance he says it is 'being like electricity'. (I lost count at twenty pirouettes…)
I loved the scene with Billy and Billy's older self, Luke Cinque-White. The pair were in perfect synchronization, and the flying scene was effortless and quite captivating. Luke is a sensational dancer.
The tap routines were simply breath-taking and utterly joyous.
The ending differed from the film where Billy dances 'The Swan' in Matthew Bourne's Swan Lake watched by his father, Tony, Mrs Wilkinson and Michael. I preferred the film's ending, which is unusual, as I would normally choose stage to screen. However, this is not to detract from the finale which was a glorious tap routine featuring the whole cast.
I really enjoyed this production as it demonstrated light and shade, pathos and humour. But sometimes, just sometimes, it is best to leave it as a memory...