Qualified mechanic wanted at Anglos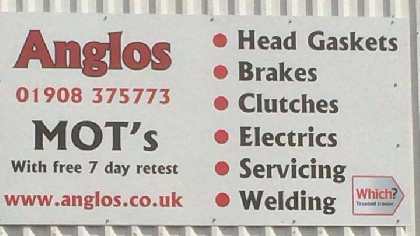 Anglos have a vacancy for a qualified mechanic. If you are interested please call Julian on 01908 375773 . You will need to be able to work on all makes of cars and light commercials.
Anglos is based at UNIT 1 GROVE ASH, DAWSON ROAD, MOUNT FARM, Milton Keynes, MK1 1BZ
Anglos, as it is affectionately known by it's many loyal customers, is a Milton Keynes based, Owner run and managed independent Garage. Anglos has built a reputation for reliable servicing at sensible prices.
The commitment to customer satisfaction means that they will only carry out work that you, the customer, has approved. And you can rest assured that your vehicle will be serviced or repaired with the utmost care and attention.
Their staff have 84 years of combined experience to call on when servicing your car. They service all makes and models of car from full service, engine service, lube service or you just tell us what you would like them to do. Anglos have an MOT Test Bay which is open 6 days a week with two fully qualified test engineers. They can carry out the required test at your convenience and don't worry if your cars fails they give a FREE re-test within 7 days even if they don't do the work required to pass.