Local McDonald's Franchise Recruiting for Christmas in all Five Stores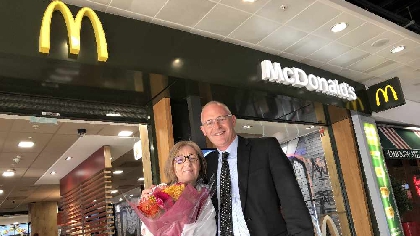 Local McDonald's franchise Kaizen Restaurants are currently recruiting permanent and temporary positions ahead of the busy festive season.
The franchise, which operates five restaurants in Milton Keynes, is recruiting for a number of vacancies including crew, customer care, and maintenance. Jobs are available at Brickhill; centre:mk; Kingston; Westcroft and Xscape. Recruitment for the Westcroft restaurant continues ahead of its reopening on Wednesday 15 November.
Ken Tomkins, owner of Kaizen Restaurants, commented, "While we rarely have a quiet day in any of our restaurants, the next couple of months will be even busier than usual and we're looking forward to seeing plenty of new faces join the team to help us take on the challenge. Full training will be provided and for the first time, we are offering temporary vacancies as well as permanent, so there really is something for everyone."
This month the franchise have celebrated a significant milestone as one of its best loved employees, Liz Morgan, celebrated her twentieth anniversary working with the business. Next month will also see the launch of the company's Festive Rewards scheme for employees across all five restaurants, which will include prizes worth up to £1,000.
If you'd like to apply for a job at McDonalds, visit www.people.mcdonalds.co.uk and search by your postcode or the name of your preferred restaurant. For more information and to stay up to date with local McDonald's news, follow Kaizen Restaurants on Facebook (facebook.com/kaizenmcdsmk), Twitter (@kaizenmcdsmk) and Instagram (@kaizenmcdsmk).