Job Vacancies at MKFM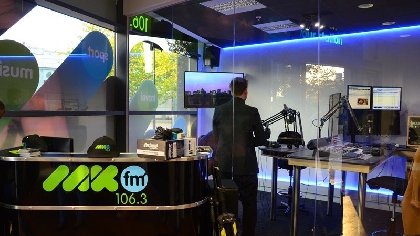 MKFM is seeking exceptional people to join our expanding team in our offices in Milton Keynes. We have a range of full and part time paid roles available, as well as several voluntary positions within the business.
You'll be working as part of our team serving the community of Milton Keynes on the radio, online and on the streets. MKFM is currently the only dedicated radio station for Milton Keynes on FM, on DAB Digital Radio and online. Through our station, website and social media we regularly reach over 250,000 people in the area every week.
Regional and National Sales Executive (Full Time)
As part of one of the leading and expanding radio & media groups in the U.K., MKFM & The Beat are looking for regional and national Sales Executives for Norwich, Herts, Beds &Bucks.
If you believe you hold excellent communicational skills and are good at building client relationships, then this job could be for you. This will be a target driven role, so you must have confidence in your selling abilities. There is great earning potential for those who strive to exceed targets and want to be the best at what they do.
We will be looking to test your skills and capability to their limits, but this will enable you to grow as you keep learning and evolving with the job.
This is a Full time role with a salary and straight forward bonus structure.
If this sounds like you are right role for you, then we'd love to hear from you. You'll need to have a full clean driving licence and be tech savvy. Take the opportunity to sell your skills to us by emailing your CV to Head of Sales, Jo Ronan at jo.ronan@mkfm.com
Weekend Street Team Co-Ordinator (Mix of Paid and Voluntary)
MKFM's street team has attended over 500 local events since our launch in 2011 and we've even been mentioned in the House of Commons!
This is a fantastic opportunity to take the lead of the team as we visit some of the biggest events in the city every weekend. You'll be part of the face of our radio station, meeting listeners, taking photos and being responsible for a team of people.
The street team coordinator will be required to work at the weekend, attending many of our community focused events across Milton Keynes. This position will be paid whilst you're working at our weekend events with the need for a few hours of administration each week as a volunteer. This work will involve preparing the team for the weekend events and these hours can be done either from home or at our office in Central Milton Keynes.
Please send your CV and a covering letter to sales@mkfm.com.
Promo Staff (Paid)
Our sister station The BEAT will be launching soon in Herts, Beds & Bucks. We are looking for promo staff to work weekends across the area. Your own transport will be essential.
Please send a current photo and CV to sales@mkfm.com.
Voluntary Positions
As part of our expansion, we are also seeking new volunteers to work in the following positions:
Producers / Remixers
Can you mix the hits? We are looking for people who enjoying mixing 90's 00's and Now for our weekend shows. Your remixes must be up to commercial standards with radio friendly versions of all songs.
Please send an hour long demo via Dropbox to sales@mkfm.com with your contact details.
Street Team
You'll be the face of MKFM, representing us at community events across the city. Our street team have attended events such as EDC, West Bletchley Carnival and the MK Dragon Boat Festival. Interacting with the public, taking photos and chatting to listeners are a key part of this exciting and dynamic role.
Website Content Management
We're seeking writers, editors and content managers to work on one of MK's most visited websites. Whether you are looking to write local news articles, publish press releases, write reviews or upload podcasts, we would love to hear from you. Basic IT experience is a bonus but full training will be provided. Strong spelling and grammar skills are essential, as well as a keen eye for detail.
On-Air Presenters
We're looking for new talent to present a range of programmes across the radio station. You could be co-presenting one of our highly successful daytime shows or even doing your own at the evening or weekend. Our programmes reach 84,000 people across Milton Keynes with even more via social media so this is a fantastic opportunity to develop your skills at a high-profile community radio station.
Please attach a link to your latest demo to your application. Please also be aware we are seeking presenters who will present our regular playlist output of the biggest hits from the 90s, 00s and Now. Applications for more 'specialist' shows are not currently being considered.
Mascot Performers
Samantha the Panther is our well known mascot who attends all of the biggest events across Milton Keynes. We're looking for our next 'performer' to step into her paws and attend some of the biggest events with our street team. Absolutely no experience is necessary, just bags of enthusiasm!
Photographers
MKFM has attended over 500 local events since our launch in 2011 and we're always on the look out for people to photograph our listeners when we visit them. You'll be working alongside our street team and taking photos to be uploaded to our website and social media channels. We're not seeking professionals - if you can do a simple point and shoot photo then we're interested in hearing from you!
For all voluntary roles, please let us know the hours and days you can volunteer and send a copy of your CV to sales@mkfm.com.