MK Dragon Boat Festival 2019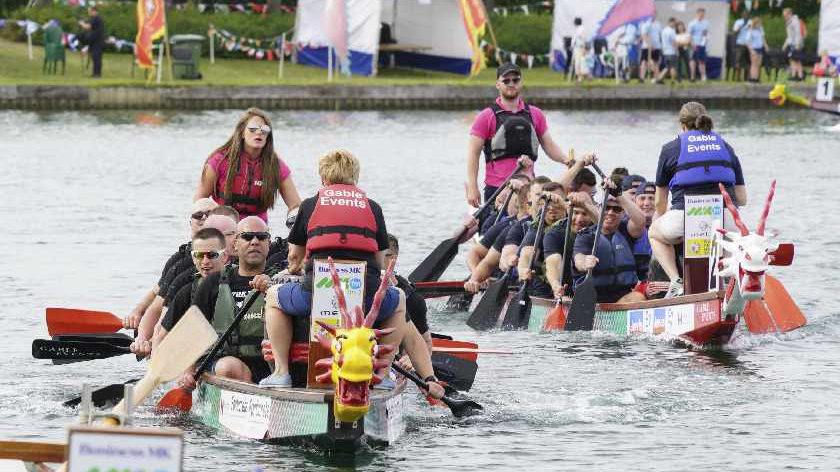 MKFM is proud to be supporting The Milton Keynes Dragon Boat Festival on Sunday 23rd June 2019, organised by Gable Events in aid of MacIntyre.
The annual festival is a highlight of the Summer in Milton Keynes and has been running for 17 years at Willen Lake.
Dragon boat racing is an ancient Chinese tradition and the fastest growing water activity in Britain today - as well as the most fun! Up to 16 people paddle each 40' boat with a drummer at the front beating time and a helm at the tail steering a straight course. No previous experience is required, just plenty of team spirit!
The 18th Milton Keynes Dragon Boat Festival takes place on Sunday 23rd June 2019 at
Willen Lake and more than 50 teams are expected to compete over the 200m race
course, watched by several thousand spectators. As well as the exciting races, a wide
range of bankside entertainment, food stalls and fun activities guarantee a fabulous day
out for all the family!
Check out the video here to see what you can expect...
Festival Charity - MacIntyre
MacIntyre is a national charity supporting children, young people and adults who have a
learning disability. Our Central office is in Milton Keynes; across the city we support
around 200 people in a variety of settings.
Around 1.5 million people in the UK have a learning disability. A learning disability
affects the way a person understands information and how they communicate. This
means they may need support to:
• Understand new or complex information
• Learn new skills
• Live independently
MacIntyre receives funding to provide its core services, meaning that fundraised income
can be used to buy the extras that make a real and tangible difference to the people we
support. Examples of this include: sports and play equipment; activity sessions and
breaks; sensory items; equipment and technology to aid communication or music
equipment.
Every penny raised at this event will be used to benefit people in the Milton Keynes area.
If there is a particular MacIntyre service that you would like to support please contact
the MacIntyre Fundraising team who will be happy to arrange this.
To find out more about MacIntyre please visit their website or call 01908 230100.