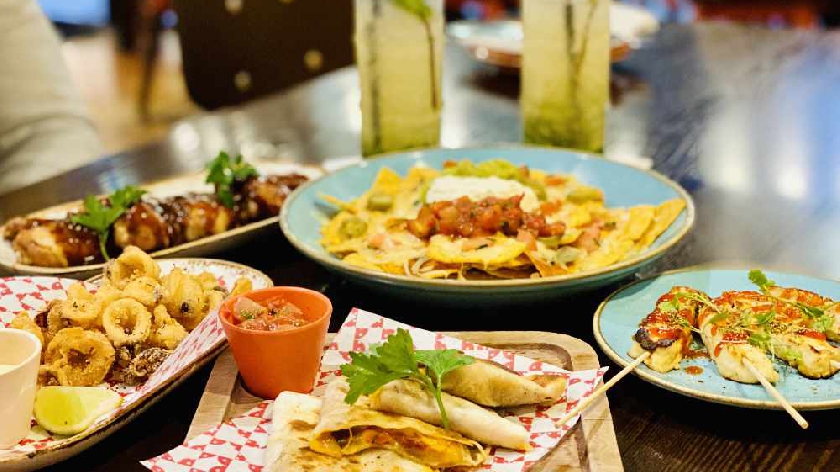 Fancy tapas this weekend? Let Lia from the MK Breakfast Show tempt you with her full review from Las Iguanas at The Hub Milton Keynes.
With the weather turning colder across MK and no sign of a holiday on the cards, Lia from the MK Breakfast Show looked a little closer to home to get those 'vacay vibes'.
'The First Lady Scoffer', as she is affectionately known on the MK Breakfast Show, was thrilled to experience a slice of the Latin life at Las Iguanas in The Hub Milton Keynes on Thursday (01/10). As the rain came down across central MK, Lia and her fiancé sipped on tropical cocktails, sampled a variety of tapas dishes, filled up on fajitas, demolished dessert and soaked up the holiday atmosphere just a few minutes from home and here's what she had to say about it...
Experience
I've visited Las Iguanas many times before (and taken advantage of their Happy Hours far too many times than I care to share) but the warm glow of the restaurant lights, tropical plants hanging outside (and maybe their signature cocktails) are always so inviting when visiting The Hub. We were welcomed on arrival by the friendly front of house staff who briefed us on the new safety measures in place (see details below) and promptly showed us to our table.
Considering it was early evening on a Thursday and the current Covid situation, I was amazed at how buzzy the atmosphere was. The Latin music played out across the restaurant and it really felt like we were on holiday in MK! I want to say a huge thank you to Sophie, our waitress for the evening, who was friendly, accommodating and happy to recommend dishes from the wide array on the menu.
Food & Drinks
It seemed only right to start the evening with a cheeky cocktail - we opted for one of our favourite holiday drinks, Mojito! It was sweet, sour and refreshing and part of their 2For1 Happy Hour (which now runs all day every day)!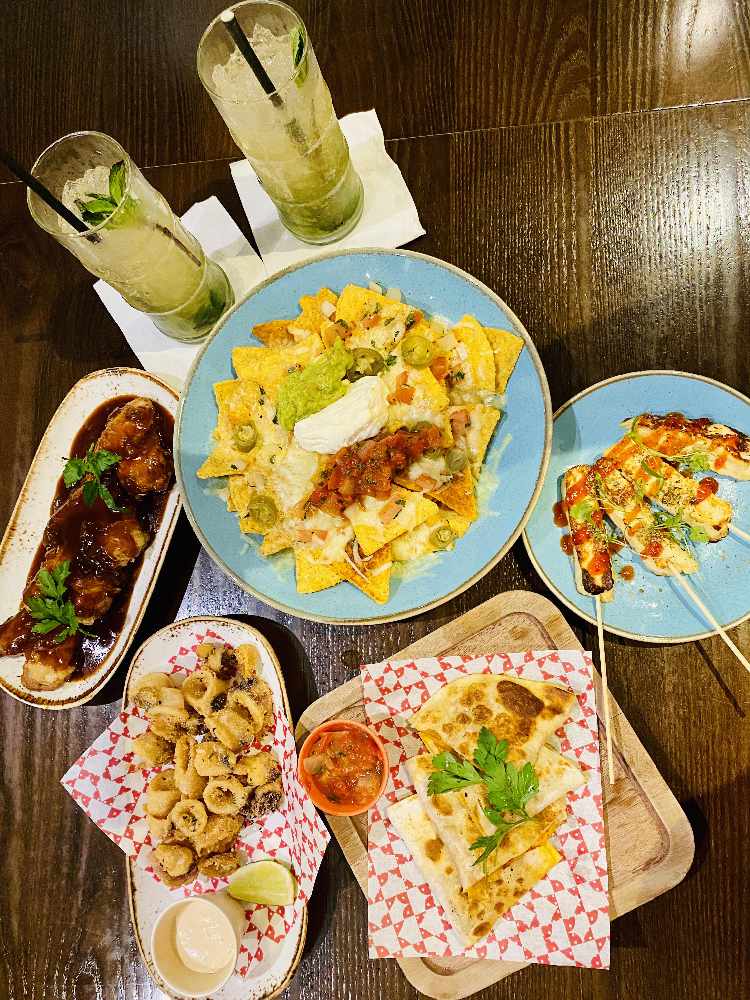 Then it was Tapas Time; nachos with melted cheese, sour cream, guacamole and roasted tomato salsa, crispy squid with aioli, chicken quesadillas, spicy BBQ jerk chicken wings and our favourite crispy squeaky Brazilian cheese with sticky chilli jam! We loved the mixture of flavours, sharing the plates between us and were pleasantly surprised by the portion sizes too. In fact, I was full after sampling the tapas dishes and then the mains arrived...
Sizzling its way through the restaurant our chicken fajita stack knew how to make an entrance and get heads turning. Ample chicken strips, sticky onions and peppers stacked on top of wraps and all of the fajita condiments added theatre to the evening and excitement - we couldn't wait to dig in! We also enjoyed their fragrant Bahian coconut chicken curry served with spring onion rice and shredded greens.
Everything was served piping hot on traditional Brazilian style colourful plates. Spices were well balanced and the mains were filling without being too heavy. We loved all of it!
Just when you think you can't eat another bite, you remember you have a second stomach designed for desserts and that Las Iguanas serve Churros...it would be rude not to! We shared the most delicious (and I've taste tested enough to know) cinnamon-sugar dusted churros served with warm dulce de leche and chocolate ganache for dunking - heaven!
COVID-19 safety measures
Considering the current climate, I think it's important to mention the safety measures in place at Las Iguanas. I understand it can be a little daunting visiting somewhere in these times and not knowing what to expect.
Everything was clearly signposted and we were given a briefing upon arrival about the new set up including; wearing face coverings when walking through the restaurant, to sanitise our hands on arrival and that it was table service only. The staff wore masks, the tables were spaced out accordingly and socially distancing rules were being followed which made me feel so at ease that I temporarily forgot about the pandemic and just enjoyed an evening out in MK!
I highly recommend Las Iguanas in The Hub for a few cheeky cocktails, sharing tapas with friends or a lavish Latin banquet!