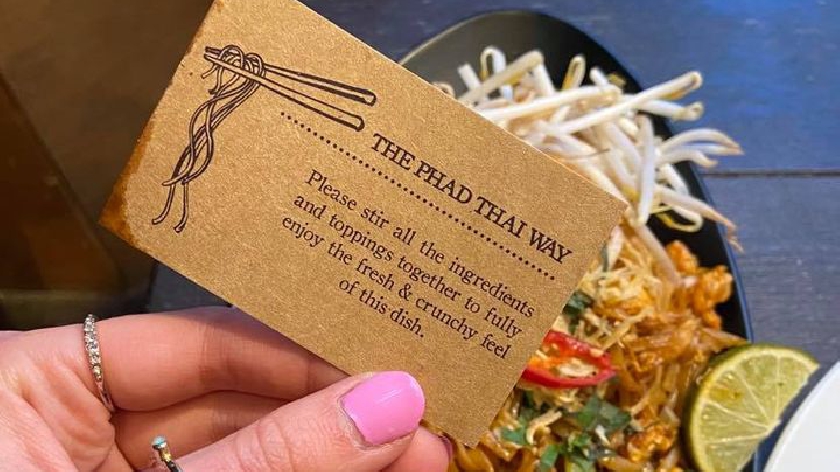 Last week, Boris Johnson announced more restrictions meaning that pubs, restaurants, and bars must close by 10pm.
This has no doubt put even more pressure on the hospitality industry. And on the first weekend that these restrictions came into place, MKFM presenter Sam Carmichael visited BananaTree at The Hub for some Friday night grub.
She took her mum along, who hadn't been out for dinner since lockdown, and was interested to see how the restaurant had adjusted to the sudden change in rules.
COVID-19 safety measures
This is now a key part of a review - what strange times we live in! We arrived at the restaurant for our allocated time slot, 6pm, and immediately scanned the 'Track and Trace' barcode before entering. We arrived, complete in masks, and were greeted by the friendly front of house staff who had big smiles on their faces (behind their masks)!
We were then asked to sanitise our hands before being escorted to our table at the back of the restaurant. I immediately noticed how spaced out the tables were, clearly following social distancing rules, which made me feel at ease.
Everything was squeaky clean too, and during the meal I noticed one staff member clean the door handles at least every half an hour.
Staff wore their masks properly and followed enhanced cleaning protocols by thoroughly cleaning each table after use.
Experience
Despite the circumstances, there was a real buzz in the restaurant which was lovely to see. I was worried that the distanced tables and stricter measures would take away from the overall experience but that wasn't the case at all.
When we entered the restaurant it was great to hear the chattering of voices, laughter and see people tucking into their food. The decor ties in with the Pan-Asian cuisine really well and has a rustic feel to it - it's great for photo opportunities!
There is a large bar with seating all around it which is perfect for social drinks, and there is also a large dining area too. My personal favourite places to sit are on the swinging hammocks upstairs and the traditional Japanese seats but these sections were both closed at the time.
If you're sat close enough to the kitchen you will be able to see the chefs preparing the food which really adds to the dining experience. As we were sat towards the back of the restaurant we didn't really see this, but we were in prime people-watching position with a great view of the rest of The Hub.
There was a real mix of people dining out on Friday evening. Friends, families, and couples both young and old just to name a few. A boy at the table next to us was celebrating his 10th birthday with his family which was lovely to see. The waiters presented him with a tasty looking slice of chocolate cake and some ice cream whilst singing happy birthday. He was very happy!
Food
The food was amazing! We started off the night by ordering some drinks - I was the designated driver so enjoyed two Elderflower Spritz mocktails while my mum had two The Rabbit Hole cocktails. Both drinks were incredibly refreshing. My mum loved The Rabbit Hole (melon liqueur, peach schnapps, fresh lime, and grenadine) as she said it reminded her of a summer holiday - yes that old thing!
For starters, we shared Sweetcorn Fritter Balls with Thai Sriacha Mayo and Mayalsian Kajang Satay sticks.
Sweetcorn Fritter Balls wouldn't have been my first choice but the lovely waiter recommended them so I trusted his judgment, and rightly so, because they are my new favourite. The satay sticks are a known classic at Banana Tree so these were a must too. The chicken was incredibly tender and it matched the peanut sauce really well. Both starters were incredibly tasty and went down a treat. The portion sizes were generous but not too large so we had plenty of room left for the main course.
For mains, we had Phad Thai with Chicken and Prawns and signature dish Banana Tree Spiced Noodles. Wow oh wow! Both dishes were beautifully presented and packed with noodles, veg, and meat. The Pad Thai even came with a nice little card telling you exactly how to eat it to ensure you get the best flavours which was a nice touch.
My mum, who had the Phad Thai with Chicken and Prawns, said how there were plenty of prawns in the dish. Usually, she has to dig around in prawn dishes to actually find the prawns, but she said this one was bursting with them! A very happy Mrs C.
I had the Spiced Noodles which had plenty of chicken, prawns, noodles and was served with another one of my favourite Sweetcorn Fritters, a prawn cracker, and salad. There was plenty of food on the plate and it was great value for money!
After eating just over half of the main course we were starting to feel full so decided to get the dishes packed up into takeaway boxes. We ended up having the leftovers for lunch the next day and it tasted just as good.
Although we were full, it seems we both have second stomachs when it comes to dessert so couldn't resist having something sweet to finish off the meal. We shared the Banana 'Frotiteroles' - crispy nuggets of hot banana fritters topped with sauce and ice cream - and the Warm chocolate indo-fondant served with coconut ice cream.
I think we didn't say a word to each other whilst eating dessert. Both dishes were incredibly silky to the taste, had distinctive flavours, and were actually incredibly light. They tasted fresh and the smooth ice cream topped it off nicely. I thoroughly recommend both dishes for anyone who has a sweet tooth!
Overall, we had a brilliant evening at Banana Tree in The Hub and felt incredibly safe. It was a real treat to have a three-course dinner and it felt good to see people out supporting MK's food scene.
Banana Tree coped with the sudden introduction of the Government's new restrictions very well and all staff were very controlled, polite and still made guests feel at ease. It was an enjoyable experience and I thoroughly recommend visiting Banana Tree for a cocktail evening or for a nice meal - or both!
Check out the gallery below:
Find out more about BananaTree at The Hub here.