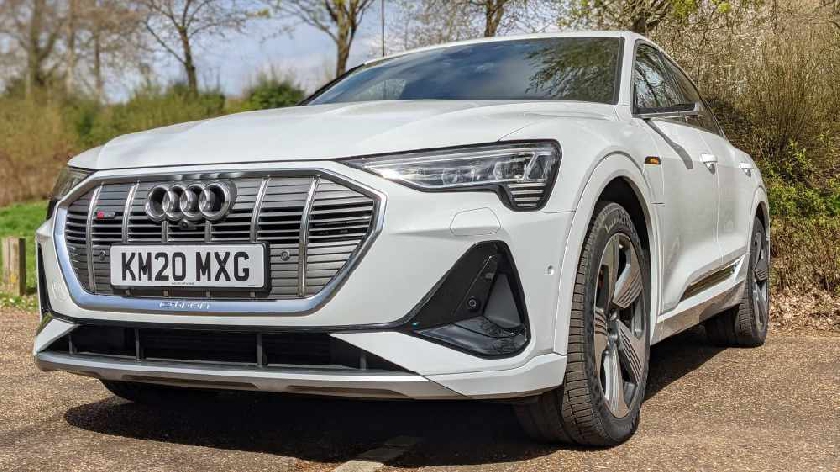 Image: Audi e-tron Sportback 55 Quattro, EV Experience Centre
As the EV Experience Centre enter their fifth year of providing completely free education and advice about electric and plug-in vehicles in MK, they are excited to welcome Audi as their new partner.
Building on the success the EV Experience Centre have seen with Volkswagen as a founding partner, the team are looking forward to introducing you to another member of the group!
Audi joins the centre to support the release of their newest e-tron: the Sportback 55 Quattro, now the highest costing electric vehicle on their fleet by a comfortable margin. This vehicle holds an 86.5kWh battery, with a WLTP range of 230 miles and can charge within 30 minutes on a 150kW charging unit.
The EV Centre still intend to offer the same experience in the e-tron as they have across the rest of their fleet, however there will be some small adjustments around price, age limit and deposit.
The Audi e-tron Sportback 55 Quattro will be available for flexible experiences, starting at 10:00am, Wednesday 14th April 2021.
As this model sits in the luxury car market, there will be a small increase in the cost for this premium e-tron experience. This is an incredible way to try the luxury side to electric vehicles and don't forget, they are still offering a full refund of one experience following a confirmed EV purchase.
Their updated costs for the Audi e-tron Sportback can be found here:
£60 – 2 days, 1 night – 100 miles included

£90 – 3 days, 2 nights – 150 miles included

£120 – 4 days, 3 nights – 200 miles included

£150 – 5 days, 4 nights – 250 miles included

£180 – 6 days, 5 nights – 300 miles included

£210 – 7 days, 6 nights – 350 miles included

£240 – 8 days, 7 nights – 400 miles included

(Excess mileage is charged at 25p per mile)
The centre will also require a condition deposit of £750, and the minimum driver age is 30 years of age, which stands in addition to their standard test drive terms and conditions.
The EV Experience Centre are looking forward to introducing you to the world of e-tron, as well as their other fantastic partners now they are back open in centre:mk.
For more information or to book a test drive for the Audi e-tron Sportback, Renault ZOE, VW ID.3, VW E-UP, VW E-GOLF, BMW I3 or MINI ELECTRIC and receive an additional 20% off your experience fill out the form below or quote promo code MKFM20 when enquiring with the Electric Vehicle Experience Centre directly.